To keep their competitive edge, Roku is launching a significant OS update, Roku OS 10, that will be pushed out over the next few weeks to all Roku TVs, streaming devices, and soundbars.
Here's an interesting fact you may not have heard: There are now more Subscription Video on Demand (SVOD) subscriptions in the U.S. than there are people. No, not everyone in the country has a subscription, but with streaming and binge watching reaching new heights during the pandemic many people and families subscribe to two, three, four, or more services.
Related: Roku Unveils New Streaming Devices
Think of it: Netflix, Hulu, Sling, YouTube TV, HBO Max, Peacock, and the increasing list of "+" services: Disney+, Paramount+, Discover+ and seemingly more every day. Then, on top of that, there are all of the free, Advertiser Supported Video on Demand (AVOD) services such as Pluto, Tubi, and similar. It's easy to see why streaming has climbed to the top of the viewership list over the past two years.
Of course, to receive these services one needs either a smart TV or an external streaming device. Research data varies, but the consensus is that well over two thirds of U.S. households have some sort of streaming device. More and more TVs have this capability built in, but external streamers are still a very large and viable market category.
Roku OS 10 Solidifies 'Swiss Army Knife' of Streamers
One of the leaders in both types of streaming reception has long been Roku. Given the growth of the streaming market in audio/video technologies, content services and good old competition means that their offerings need updating every so often. To keep up with the market expansion that is exactly what Roku has announced this week.
At the core of any streamer is the operating system, or OS. Debates over which is better boils down to personal opinion, but as the first widely available streamer, Roku is definitely considered among the best, and as an independent company they are often called the "Swiss Army Knife" of streamers.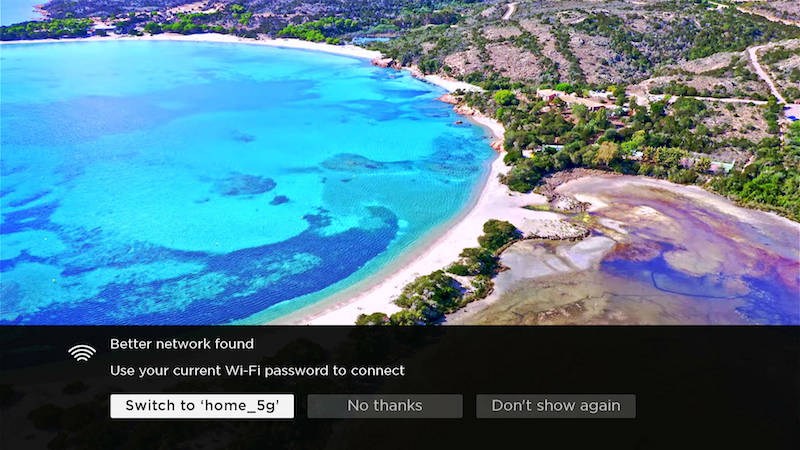 Roku OS 10 enable HDR 10+ to be added to the Roku Ultra (2020 model) and the new Roku Express 4K and 4K+. Automatic Wi-Fi network detection will recommend the best available network, which is a big help given that many homes now have multiple-band capability. The device will even proactively display a prompt when a network switch will deliver a better user experience.
For home control, Roku OS 10 will include Apple HomeKit support for select Roku HD TVs and streaming devices, making it possible to control these Roku products via Siri and the Home app. AirPlay 2 will also be added to select models to allow for content sharing with Apple iOS and Mac OS products.
Gaming Capabilities Thanks to Roku OS 10
Gaming has grown significantly due to both pandemic stay-at-home orders and the introduction of new game consoles from PlayStation and Xbox. With Roku OS 10, those with a Roku TV will get the Automatic Game Console Configuration feature. This enables the TV to automatically detect any supported game mode-related features that the specific TV supports, such as HDR gaming, Auto Low-Latency, VRR High Frame Rate, and the THX Certified Game Mode. This will also put an input tile on the Roku TV home screen.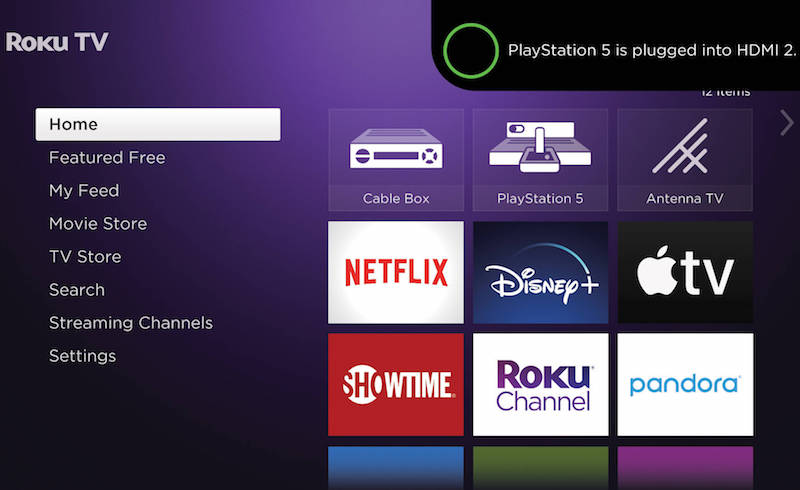 Adding Virtual Surround to Soundbars
Finally, Roku OS 10 adds Virtual Surround with the Roku Smart Soundbar and the new Roku Streambar Pro as well as other improvements to Roku Voice search for visual search results.
With regard to Roku's soundbar lineup. The new Soundbar Pro replaces the current model and offers with the features of OS 10 such as Virtual Surround for an immersive sound field presentation. It also has a Roku Voice along a pair of Roku headphones which plug into the remote for private listening. It will be available for $179.99 in late May from Roku.com and from a range of major retailers in June.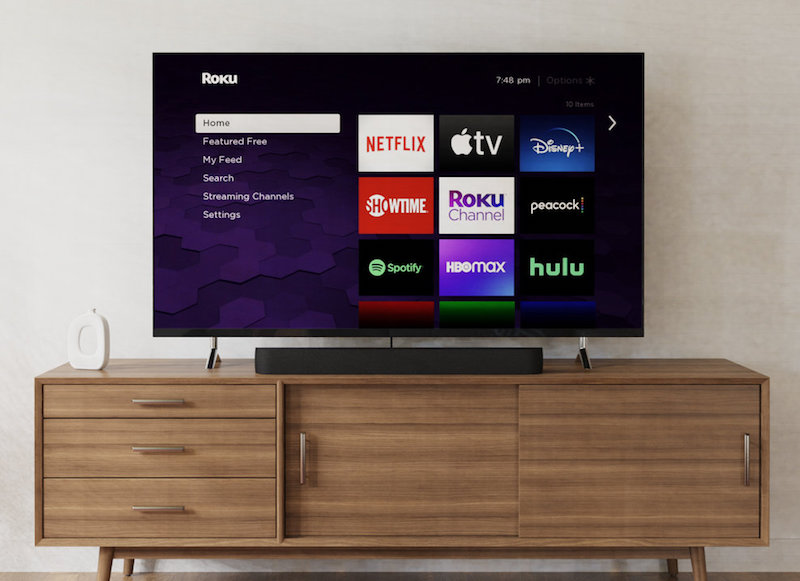 Voice Control Capabilities
One new product that will be compatible with all Roku devices and TVs will be the new Roku Voice Remote Pro. It ups the game from the standard remote by switching to a rechargeable battery and additional voice control capabilities. Commands may be given on a hands-free basis without pressing a button but for those who prefer not to have devices always on and listening, there a "push-to-talk" mode that turns off the hands-free feature.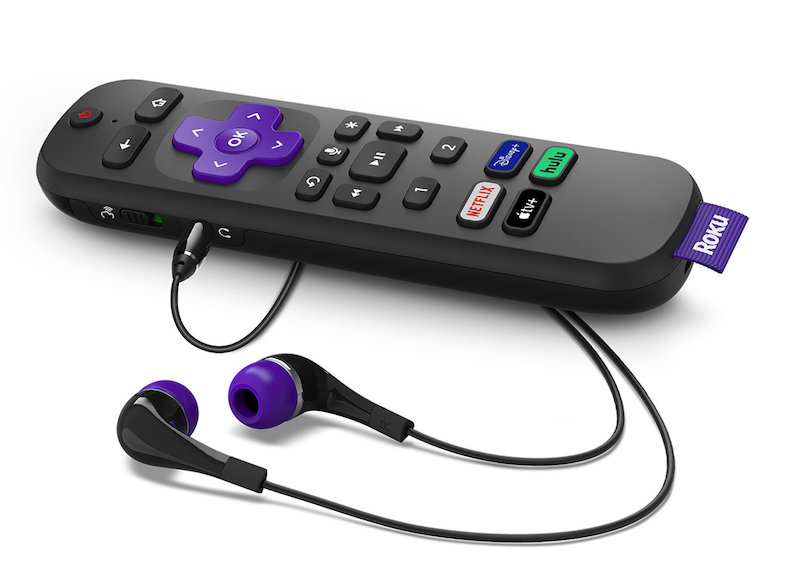 As an added convenience feature, favorite voice commands may be stored on the remote and then activated going forward with programable buttons on the remote. The voice command also may be used to sound a chime when the user says, "Hey Roku, where's my remote?" presuming that the remote is within voice range.
The Roku Voice Remote Pro is available now at Roku.com and will be available at major retailers in May for $29.99.
Faster Access to Content
Faster access to content is a high priority for OS 10, with "Instant Resume," which delivers quicker reload time to more than 15 key and popular apps such as AT&T TV, Fox News Channel, STARZ, and, of course, The Roku Channel. When selecting a compatible channel the user will also be taken back to the place where they left off.
Roku and 4K
Last, but certainly not least, Roku has matched the entry-level price category for 4K streamers with the new Roku Express 4K. Priced at $39.99, it has all the features offered by OS 10 including HDR10+, Airplay 2, and the ability to respond to voice commands from Alexa, Google Assistant, and Siri/HomeKit.
There is a more powerful quad-core processor for a smoother streaming experience and additional storage space for quicker channel start times. Connectivity is via dual-band Wi-Fi or via an ethernet connection when an optional adapter is connected via microUSB.
The Roku Express 4K+ will be available on-line and from major retailers in mid-May. A Walmart-exclusive version called the Roku Express 4K will have the basic Roku remote and sell for $35.
As we move into spring, everyone is looking forward to getting outdoors and perhaps even to movie theaters again, but the enormous growth and acceptance of both subscription-based and advertiser supported streaming services will remain long after the pandemic is in our rear-view mirrors.