The VX44-18G-Kit, VX88-18G, and VRX70-18G add to the expanding RTI portfolio of video distribution solutions to support the HDBaseT 18Gbps standard. RTI is now shipping these new HDMI 2.0 full-bandwidth video matrix solutions.
Built on the latest HDBaseT 18Gbps standard – and featuring advanced color space conversion (CSC) technology – the 4×4 VX44-18G-Kit, 8×8 VX88-18G, and matching VRX70-18G receiver integrate with the RTI control system for faster installations and enhanced user management.
Related: RTI 4K Video Over IP Platform Enables Control Integration
VX44-18G-Kit Native Integration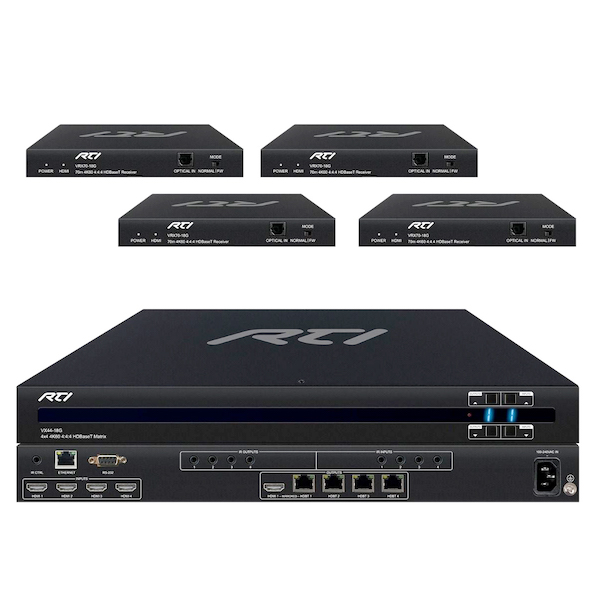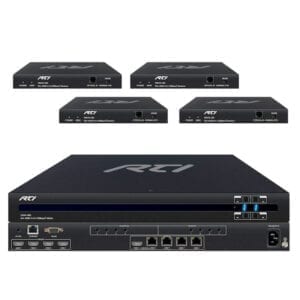 "They integrate natively within the RTI control environment, with the driver built into the latest release of the RTI Integration Designer APEX programming software to save time on every installation," said Neal Ellsworth, RTI director of product management, AV. "For end users, control is fully within the RTI control system for easy and intuitive operation."
Eliminating Blurring in Action Movies
The RTI full-bandwidth solutions support 4K UHD resolutions at a 60Hz refresh rate and 4:4:4 chroma sampling to provide crisp, crystal-clear picture quality and eliminate blurring in action movies. The units are HDCP 2.2-compliant and support all known HDMI audio formats, including Dolby TrueHD, Dolby Atmos, Dolby Digital Plus, and DTS-HD Master Audio.
The VX44-18G-Kit and VX88-18G matrices feature four and eight HDMI inputs, respectively, that can be independently routed to four and eight HDBaseT outputs. In addition, each unit offers a simultaneous HDBaseT/HDMI output. The devices provide video down-conversion for lower-resolution displays, while a web browser interface module offers simple configuration.
The matrices can be paired with the VXR70-18G receiver. The VX44-18G-Kit comes bundled with four, which features HDMI reclocking to resolve HDMI HDCP, compatibility, and handshaking issues, and supports IR pass-through to compatible HDBaseT devices. To simplify installations, the receiver is powered by the matrices via power over cable (PoC), eliminating the need for additional power supplies.