Salamander Designs, the U.S.-based manufacturer of premium furniture for residential and commercial AV and technology, has introduced Acadia Display Stands that are designed to install in minutes without drilling or wall construction.
The new Salamander Designs Acadia Stands offer a modern look for mounting TVs and are offered in two models — the Wall Stand and Mobile Stand. Both models are designed to blend into any environment without taking up floor or wall space or creating construction damage.
Suited for both large and small spaces, Acadia is also an option for temporary installations, such as in apartments. The stands can also be moved from room to room, or even taken with "on the go" renters when they relocate, without wall repairs.
Starting at under $400, the Acadia Stands accommodate TV sizes from 30 to 85 inches, and like all Salamander products, provide clean wiring and power management via a hidden, built-in chase. Initially available in white metal, the stands can be easily painted to match any décor.
The mobile stand model offers an anti-tip, anti-fall device with stabilizing pad. Both models offer five-position screen height adjustments and can be pivoted for a completely full viewing range. The Acadia Stands are also backed by a full five-year warranty.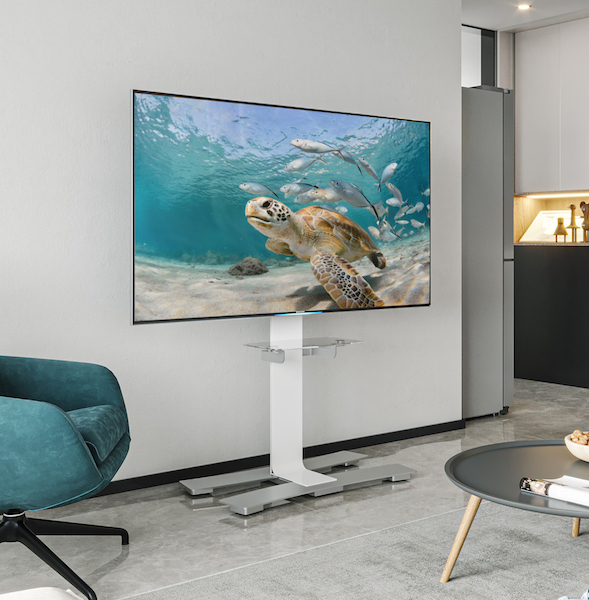 "Salamander Acadia Stands offer such a fresh approach to design and innovative new way to mount TVs and video displays for every size and style of home and every generation," said Scott Srolis, senior vice president of sales and marketing at Salamander Designs. "They provide a more elegant, rapid way to deploy TVs that can go in anywhere without construction or wall damage, which opens up new opportunities for our integrators, designers, and their clients."
Salamander Acadia Display Stands are also suited for enterprise display applications such as digital signage, training, entry ways, smaller meeting rooms, and other business spaces.
Related: Catching Up with the Latest Cosmetically-Conscious Home Technology