So you didn't get an ensemble of shiny, new, smart major appliances (clothes washer, dryer, refrigerator, stove, etc.) for the holidays because you walked into your local big box store and got an immediate case of sticker shock. Manufacturers are still charging a premium for smart appliances. In addition, major appliances last for many years so it is hard to justify throwing away a perfectly good appliance just to get a few smart features. But, according to a survey by the National Kitchen & Bath Association, 83-percent of consumers want smart appliances.
In this series of articles I'm going to explore ways to easily add key smart features to your existing major appliances. The first article will explore ways to make your clothes washer and dryer smart. The second article will explore ways to make your primary kitchen appliances smart. Finally, the third article will explore ways to make your small appliances, and other devices in your home, smart.
Laundry is a time consuming activity. Getting all the laundry done as efficiently as possible can save a considerable amount of time. Smart washers and dryers optimize the time it takes to do laundry by sending notifications to homeowners when their washer and dryer have finished their cleaning and drying cycles. Not only does this optimize the time it takes to do laundry, it also allows a homeowner to accomplish tasks that take them out of earshot of the simple chime that a standard washer/dryer will play when they finish their cycles.
Logically it would make sense to first talk about ways to retrofit notification technology to a clothes washer. Unfortunately, for a clothes washer, there isn't a simple, off-the-shelf, solution.  So, instead, I will first discuss how to add this functionality to a dryer. Then I will dive into the more complex topic of how to implement it in a clothes washer.
Clothes Dryer
Removing clothes from a dryer right after it has finished drying them isn't just important to save time.  Clothes left in a dryer will become wrinkled. They can become so wrinkled that they will require extensive ironing; wasting a lot more time.
Fortunately, SmartDry, by Connected Life Labs, offers an easy to install solution. SmartDry consists of a battery operated sensor, which attaches to the inside of your dryer with magnets, and a small hub that plugs into a nearby outlet. The sensor communicates with the hub using Bluetooth and the hub connects to your home's 2.4Ghz, Wi-Fi network. It is important to note that SmartDry operates can be installed in either a gas or electric clothes dryer.
To monitor the operation of your dryer, the sensor measures temperature, humidity, and motion.  SmartDry will notify you when your dryer has finished its cycle, by monitoring the motion of the drum. In addition, by monitoring the humidity in the dryer, it can also tell you when your clothes are dry, even though the dryer hasn't finished its timed cycle. This can potentially save you money by allowing you to remove your clothes from the dryer before its timed cycle is done.
Installation is very simple. After installing the app on your smart phone you are provided with on-screen instructions to walk you through the process. One thing to keep in mind is that under iOS13 for the app to access Wi-Fi on your phone, you must provide permission for the app to access location services. If you fail to give permission then the hub will not be connected to your Wi-Fi network and the system will not function properly. The latest version of the app includes additional instruction to help make sure the homeowner doesn't make this mistake. Other than this, setup is very simple and straight forward. It is important to note that once setup has been completed that once setup is complete access to location services can be turned off to protect privacy.
Even though a battery in the sensor is expected to last a year in the average home, a second battery is included. Also included is a tiny Phillips head screwdriver that is needed to open the battery compartment.
I was able to test an evaluation unit of SmartDry and overall it operated as expected. I enabled notifications for delicate temperature alert. About ¾ of the way through my first drying cycle I received a delicate temperature alert that my dryer temperature was high. This makes sense as the temperature in the dryer would have risen as the clothes dried and less energy was being used to evaporate the moisture in the wet clothes. Then, during the dryer's cool down cycle I received a notification that my clothes were dry. Finally, when the dryer stopped spinning I received a final notification that dryer was done and my clothes were very dry.
The only anomaly was that my washer and dryer are very close together and share a common riser stand for storage underneath. In addition, there is a slab of butcher block on top of them to create a work surface. Both of these act as a mechanical coupling between the washer and dryer allowing vibrations from the washer to reach the dryer. When my washer finished its high speed spin cycle I received a notification from the SmartDry sensor that my dryer had stopped and my clothes were dry. I've made the folks at SmartDry aware of the problem and they are working to improve their algorithm for movement to better understand the difference between a spinning dryer drum and general vibration. I can see this same issue impacting some people with a stacked washer/dryer.
There are some other areas where SmartDry could be improved. First, notifications can only be sent to a single smart phone. This is a real issue in homes where multiple people share the job of doing laundry. The folks at Connected Life Labs are also aware of this issue and are working on a solution.
Second, initial versions of the sensor and hub were delivered in 3D printed, plastic enclosures. This was highlighted in the early, online, reviews.  Now the product is delivered in professionally molded cases.  This evolution highlights that this is the first product of by a young company. The user interface of the app also highlights this fact. It is still very plain and basic. A little work by a graphic designer would significantly improve it and provide additional evidence of the evolution of the organization.
Finally, every notification includes the sensor ID. It would be much more user friendly if this could be replaced with a user entered description of their washer/dryer's location. These days many homes have multiple laundry locations. For example a home might have a washer/dryer near the first floor master bedroom and a second appliance set on the second floor, near the remaining bedrooms. Being able to include these descriptions in the notifications would make it much easier for homeowners to know which dryer has just finished. Overall, SmartDry is an inexpensive tool for adding smart features to an existing clothes dryer.
Clothes Washer
Removing clothes from a washer right after it finishes its cleaning cycle is important to optimize the time it takes to do laundry. In addition, one of the worst things that can happen when doing laundry is to forget that you started washing a load of clothes. After a day, or so, the damp clothes in the washer will become a Petri dish for mold and mildew; possibly ruining the clothes.
To date, I haven't found any off-the-shelf, smart devices dedicated to detecting when a clothes washer finishes its wash cycle. The folks at SmartDry have shared with me that they are working on a product to do this (no release date is available at this time). Until that time I can offer two potential solutions.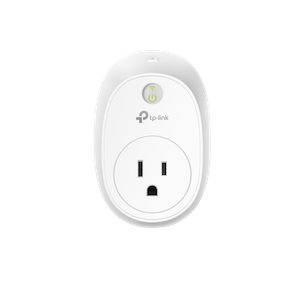 First, for smart homes based on a Crestron automation processor I have written a module for a TP-Link HS110 energy monitoring smart plug.  The washer is simply plugged into the smart plug and the module will monitor the energy used by the washer.  The high speed spin at the end of a wash cycle (which uses much more power than any other aspect of the wash cycle) is used to determine when the washing is done.  The module can be connected with other logic in the Crestron programming to send a notification to the homeowner.
The code for this module can be downloaded from my GitHub here: https://github.com/jbasen/TPLink-HS110.  The source code for the module is included so people can port this to the smart home platform of their choice.  It should be noted that the API used by the module is well documented on the Internet but NOT supported by TP-Link.
Another way to leverage the TP-Link HS110 energy monitoring smart plug to monitor your clothes washer is to combine it with a Sense, whole house, energy monitor.  This provides a reliable way to monitor the operation of your washer and receive notifications when it has completed cleaning a load of clothes.
Providing notifications when your clothes washer finishes cleaning a load of clothes isn't the primary purpose of a whole house energy monitor.  However, it is a workable solution and will provide many other benefits to a homeowner.  You can read more about the Sense energy monitor in previous articles I wrote here and here.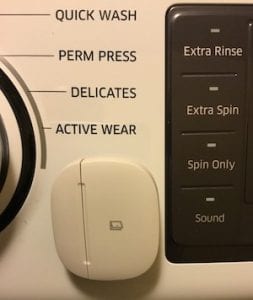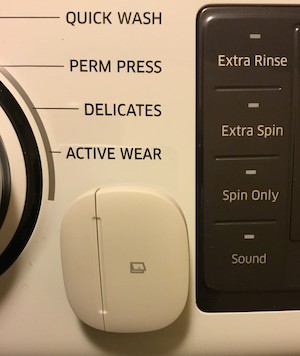 Another solution, available for SmartThings users, is to attach a SmartThings Multipurpose Sensor to their washer and to load the laundry monitor SmartApp onto their hub.  The SmartApp can be found here.
The Multipurpose Sensor senses vibration and the smart app can be used to send a notification to the homeowner when the washer stops running.  Unfortunately, the logic for doing this can be challenging for a couple of reasons.
The SmartApp requires you to enter the amount of time it takes for your washer to fill with water.  Today's high efficiency washers only use as much water as is necessary to wash the amount of clothes that are loaded into the washer.  So, the amount of time required to fill the washer will change depending on how big a load of laundry is being washed.
The SmartApp needs to know how many cycles the washer requires to clean your clothes.  Many homeowners use different wash settings, with a different number of cycles, depending on what clothes they are washing.
For these reasons the SmartThings Multipurpose Sensor with the laundry monitor SmartApp may not be a reliable solution for every homeowner.  However, the Multipurpose Sensor is available for less than $20. If you already have a SmartThings hub, then experimenting with a Multipurpose Sensor might provide a workable solution for you and doesn't require a significant investment.
Making your clothes dryer smart with SmartDry is simple, easy, and inexpensive.  The folks at Connected Life Labs are working on a similar product for clothes washers that will be available sometime in 2020.  Unfortunately, there currently isn't an ideal, off-the-shelf solution, for making a clothes washer smart.
In two weeks the next in this series of articles will be published on ways to make your existing kitchen appliances smart.