Smart door locks are maturing as a technology category, and with that maturity has come growth in sales and more market penetration, according to new data from Parks Associates.
As of Q4 2021, 11% of U.S. internet households, or over 11 million households, owned a smart door lock, which is nearly double the adoption rate five years ago. According to Parks, purchase intentions are also on the rise. In Q4 2021, 29% of U.S. broadband households reported a plan to purchase a smart door lock in the next six months, up from just 21% in 2018.
Smart door locks and associated whole-building access control systems have fueled the recent acceleration in smart apartment adoption while several major production builders now include them in standard specifications.
Feature innovations, such as biometric verification, integrated video cameras, voice control via smart speakers, and integration with home delivery services, help to raise awareness and value perceptions of smart door locks. That increased awareness triggers sales in retail, security, home builder, and system integrator channels.
Many smart door lock and smart access control systems are several generations into their development, and features that once defined premium tiers are now integrated into basic models. Remote access, unique guest codes, personalized alerts, and integration with prevalent smart home and property management platforms are commonplace.
Even voice control is now a standard feature, as a growing number of use voice control for connected devices in the home. Consumers ranked lights, thermostats, door locks, smart TVs, and video cameras as the top five devices they would most like to control via voice assistant. Although some users express concern about using voice assistants to allow access to their properties, most integrations do not allow for voice-controlled unlock. Instead, voice assistants' capabilities are limited to restricting access, locking doors, and arming systems.
It is now common for companies to integrate their devices with Amazon Alexa or Google Assistant. Although integrations with Apple HomeKit lag behind the other two big voice assistants, most of the dominant players have already added Siri voice assistance to their door locks. To remain competitive, device manufacturers need to include voice control.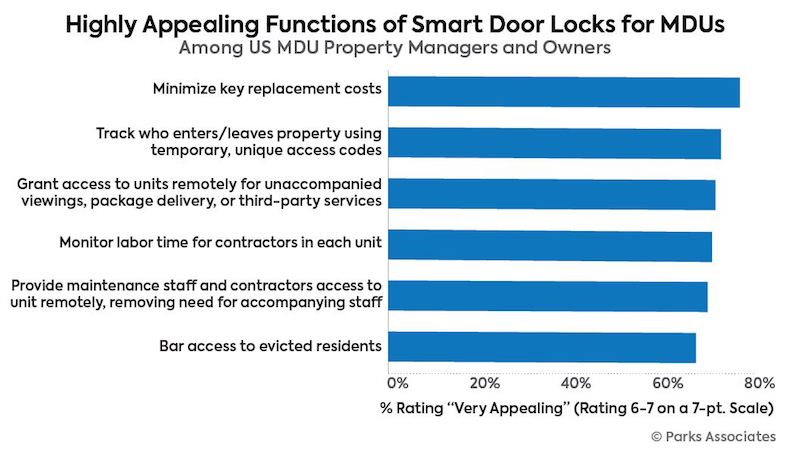 Power consumption is also an ever-present issue, with many connected home products — like smart door locks, smart smoke and CO detectors, Wi-Fi weight scales — relying on battery power. Battery power limits these products' ability to support more robust networking protocols, and frequent battery replacement makes for a poor user experience. It also limits products' ability to add new features or interfaces. For instance, smart door locks often include a traditional physical key option — homeowners will not tolerate coming home to a door they cannot unlock because the battery has run down.
New sets of features are emerging that will define the premium tier of smart door lock and access control platforms going forward, including advancements in sensing, mechatronic functions, authentication technologies, and communication protocols. To continue the industry's growth path either in customers, revenues or both demands that they lean into the edge. Further, active expansion efforts to gain new channels and partners is part of that lean in requirement.
Whether established market leaders or start-ups, smart access control product and system manufacturers are under constant pressure to keep innovating. Not only have formerly innovative features become standard, but in some access control categories, prices are falling. The average selling price of a smart door lock in the U.S. was $101 in Q4 2021, down from $133 just two years prior. Video doorbells, smart thermostats, and other smart home products are witnessing similar pricing trends.
Manufacturers seek features that demand premium pricing and services that can create recurring revenue streams. Maintaining an edge with innovative technology and ability to integrate with future solutions are important differentiators in a highly competitive market.
Parks Associates, in partnership with PassiveBolt, recently released the industry whitepaper, Smart Locks and Access Control Supply Chain: Scaling Innovation, available as a complimentary download. The international research firm will also present consumer research and address key smart door locks and access control trends during its CONNECTIONS™ 2022 conference series.