Snap One is a Gold sponsor of the U.K.-based organization that designs and installs cinemas at children's hospices. 
The Rainbows Children's Hospice in Loughborough, U.K. recently became the 31st children's hospice in the country to receive a free professional-grade movie theater installation through the philanthropic organization Together For Cinema. According to founder Ian Morrish, sponsorships and products from companies like Snap One are crucial to the success of its mission: to deliver joyful experiences to children and their families in hospices throughout the country.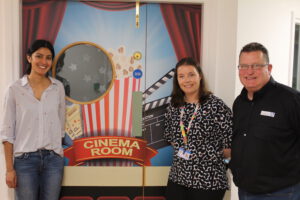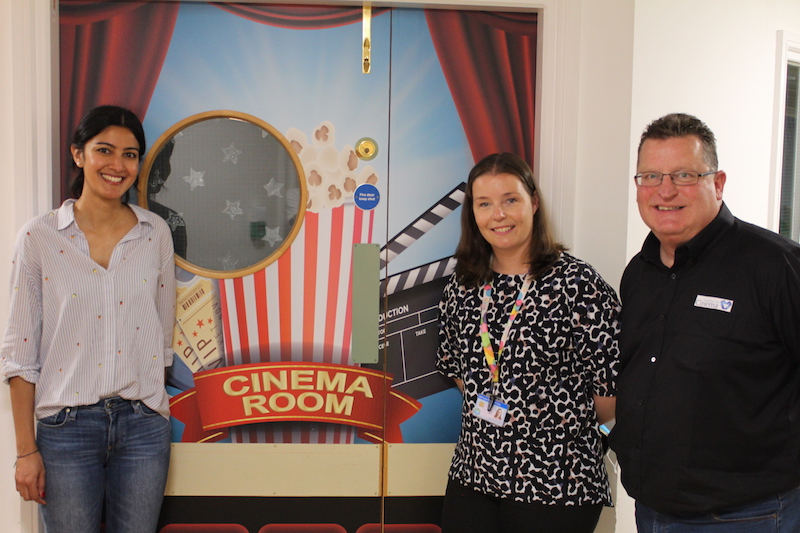 "We began ramping up our outreach in 2021, and Rainbows contacted us in August to learn more about what we do and to discuss a possible installation," Morrish said. "Once I saw the room they had available, it was clear that we could deliver our standard Together For Cinema installation, but with extra lighting to help create a wonderful ambience and visual experience. I envisioned downlights, LED lights, motorized blinds, and a fiber optic star ceiling all combined through a Control4 automation system that would ensure a memorable cinema room experience."
Snap One learned about Together For Cinema's incredible mission in 2020, quickly joined as a Gold sponsor in 2021, and has since donated equipment and resources for 10 completed projects. 
In the Rainbows Children's Hospice cinema room, Control4 helps make movie time as easy as possible for staff and as fun as can be for the children and their families. Staff can easily turn everything on at once using a Control4 remote, including the special lighting, AV equipment, motorized window blinds, and the Infinity Lighting starry sky ceiling panels.
The room seats up to 10 people, so entire families can schedule movie time with their children.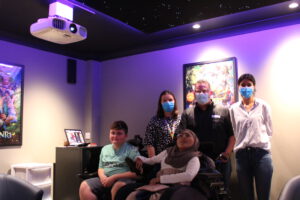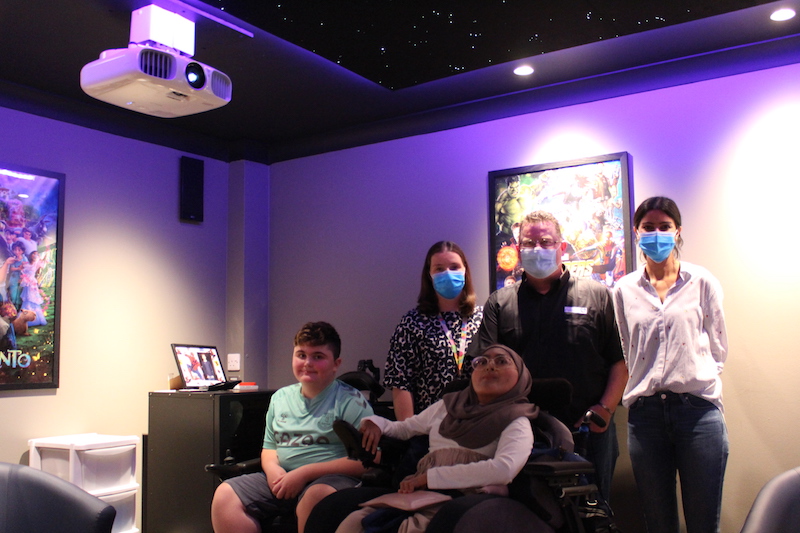 "For many of those who stay at our hospice, going to a cinema might not be a physical option, or they simply may not feel comfortable making that trip," explained Anne-Marie Rosak, head of nursing and clinical operations at Rainbows Children's Hospice. "Now, families are able to use this dedicated room at any time during their stay and enjoy full control to make the space suit their needs, whether they want it fun and lively or tranquil and relaxed with the beautiful ceiling of twinkling lights.
"For many of our young people at the hospice it is about freedom, being independent and choosing whatever films they wish to watch," Rosak added. "Previously we used our conference room as a cinema, but that never felt like a real cinema experience. This is much more intimate, and we know it will create wonderful memories for hundreds of families."
Together For Cinema contracted with Gary Mills at Decorum Technology, a local integrator, to donate labor and materials to support the project. In fact, all equipment and labor were donated, so there was no cost to Rainbows Children's Hospice or any of the other recipients thus far.
The estimated cost of equipment and labor for this project was £25,000 ($31,500), and the total so far across all 31 completed projects is more than £700,000 ($880,000).
"This is the second installation that we have helped Together For Cinema with, the first being at Acorns Children's Hospice in Walsall which was completed in January 2012," Mills said. "Both installations were a pleasure to be involved with and we are delighted to help make a difference to so many children and young adults in and around both Walsall and now Loughborough. The high-quality equipment enabled us to create a fabulous cinema room facility that will stand the test of time and provide meaningful experiences for many years to come."
The installation only took one week, and the cinema room has its grand opening on May 17 with a special event featuring acclaimed English actress Rakhee Thakrar, who has appeared in many BBC and Netflix series and will grace the silver screen in the 2023 blockbuster production Wonka.
"I was delighted to be asked to help open the new cinema room at Rainbow's Children's Hospice and witness what a difference this will make to so many children and young adults in the future," Thakrar said. "I think it's amazing; I can't believe how special it is! When you walk in, it is totally immersive and definitely has the wow factor. It will be a wonderful place for families to make memories together and that is what Rainbows is all about. The big screen cinema feel, the excellent audio, the lighting, including the wonderful infinity ceiling, really make this a special gift to Rainbows."
For more information about Together for Cinema and the cinema room at Rainbows Children's Hospice, visit https://www.togetherforcinema.co.uk/.
Snap One is a Gold sponsor of Together For Cinema's mission to help create happy memories for families and children throughout the U.K. hospice system. United States manufacturers interested in supporting Together For Cinema as a sponsor can learn more about the organization here and by reaching out to Ian Morrish at Ian@ad-con.uk. 
Related: Snap One Control4 CORE and OS 3.3.0 Enable LED Color Controls and Composer Pro