Somfy, manufacturer of motors for interior window coverings and exterior solar protection, has announced that its Wirefree Li-ion Solar Panel is available directly to the North American consumer market. The Li-ion Solar Panel is a charging solution compatible with Somfy's range of WireFree motors.
Designed to support the use of renewable energy at a micro level, the Wirefree Li-ion Solar Panel minimizes manual maintenance for end-users of motorized window coverings in a cost-effective way.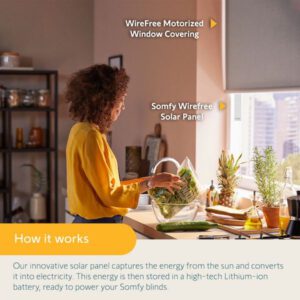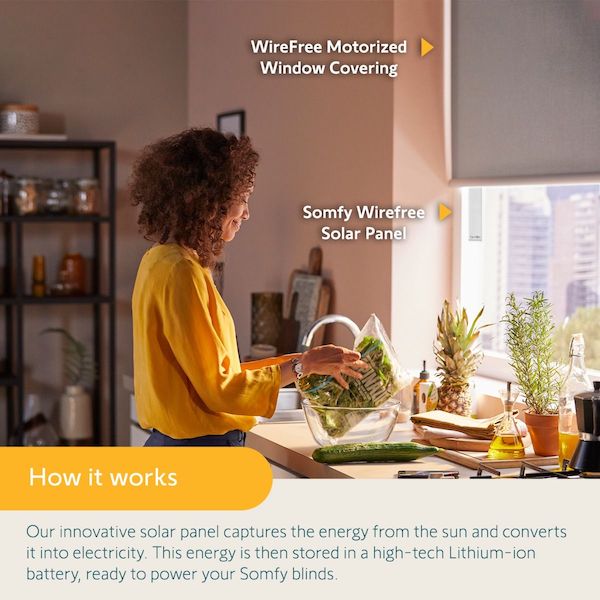 First launched in March 2022 to Somfy's professional network of fabricators, the Li-ion Solar Panel was well received by its partners. Now available directly to the consumer market, this product is a more sustainable, maintenance-free alternative to recharging motorized window shades and blinds, using the best-performing long-lasting lithium-ion battery technology. The solar panel provides enhanced performance and convenience, decreasing the need for battery charging, hence requiring less effort from consumers in maintaining their motorized window treatments.
End-users looking to upgrade their existing V2 Somfy WireFree (Li-ion) motors or external (Li-ion) battery packs with a sustainable DIY solution will now be able to easily purchase and install the panel. In addition to easier management of natural light in the home, Somfy's motorized window coverings increase comfort and convenience by providing solutions for covering hard-to-reach windows, privacy control and smart home integration.
Related: Josh.ai and Somfy Partner Up for Control of Motorized Solutions
"Somfy is proud to present an additional cost-saving and eco-friendly solution to our innovative portfolio of products for the consumer market," said Brent Holup, product manager WireFree products at Somfy North America. "We dedicate our creativity, technology, and innovation to helping create a more comfortable, responsible, and safer home for our customers. This Li-ion Solar Panel harnesses the power of the sun to charge the motor and provide additional convenience to homeowners without worrying about replacing or discarding disposable batteries."