The new Sonance Patio Series system is designed for petite outdoor spaces demanding even, balanced audio coverage and performance.
Sonance stands firm in the belief that "speakers should blend in with the design of your space and be comfortable to listen to," and their new Patio Series system of four satellite speakers and one in-ground subwoofer now gives integrators the ability to accomplish that in smaller spaces. The landscape lighting-like speaker housings and the textured brown finish allow Patio Series to be hidden amongst the natural elements of the landscape, blending perfectly into its surroundings.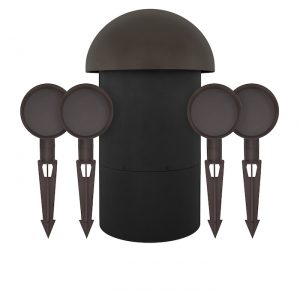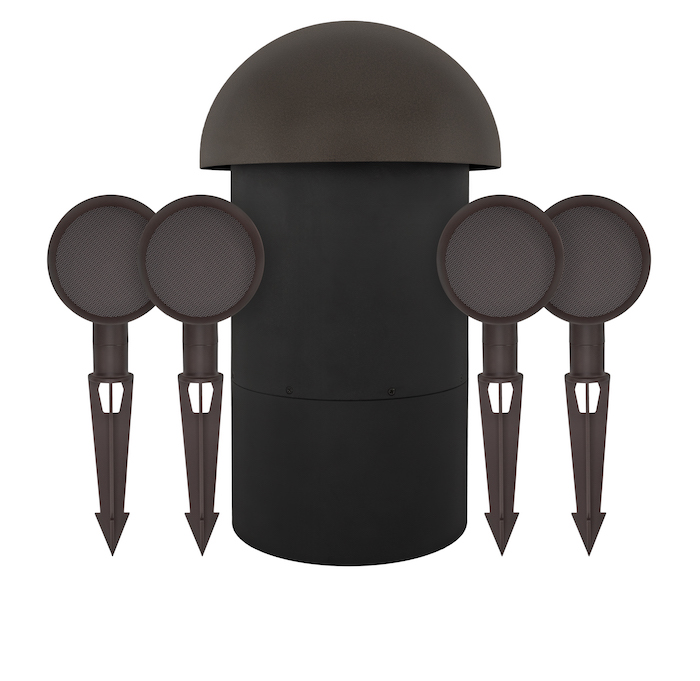 The system features four staked satellite speakers, each with a 3.5-inch (89mm) anodized aluminum cone driver and a Santoprene surround. The subwoofer contains an 8-inch (203mm) dual voice coil, polypropylene cone & Santoprene surround for impressive output in intimate courtyard or patio settings. The system comes with four satellite speakers and one subwoofer and can be expanded to include eight satellite speakers and two subwoofers when using a Sonance SR 2-125 DSP amplifier. A single Patio Series System (four sats and one subwoofer) can cover up to 100 square meters (~1000 square feet.)
The new system announcement comes just as the previously successful Sonarray solution is exiting from the Sonance line up. "We continually challenge ourselves to deliver the best outdoor audio experience to our customers," Product Manager, Josh Blanken said. "For years, Sonarray has been a powerful solution for integrators looking to provide landscape audio systems for their customers at a high value price point. With Patio Series replacing Sonarray, Integrators will now have the ability to provide class-leading performance and aesthetics, in much smaller spaces."
Sonance Patio Series is expected to begin shipping February 2020.