Austin's South by Southwest (SXSW) Conference showcases cutting-edge innovation and creativity through technology, culture, and music, featuring brands that aim to connect people. Spatial, a soundscape software company, embarked on a unique mission to provide guests the experience of the full power of immersive sound at The Sunset Room with The Spatial Holodeck SXSW activation.
The environment (or "activation"), which was designed and fabricated by Pink Sparrow, set out to bridge a multitude of spaces that took visitors on a sonic journey powered by Spatial's technology. By introducing three-dimensional, interactive soundscapes, Spatial and their partners seek to redefine immersive experiences and provide an audio world unheard anywhere else.
The team at Spatial knew they wanted to create an environment that seamlessly blended speakers and supporting technology with the activation's physical design aspects. Spatial chose Sonance and James Loudspeakers, with a reputation of the highest quality audio system; bringing together some of the core artistic principles in audio design, sound-engineering, and AV integration. The collaboration between Sonance and Spatial made this experience a sonic work of art.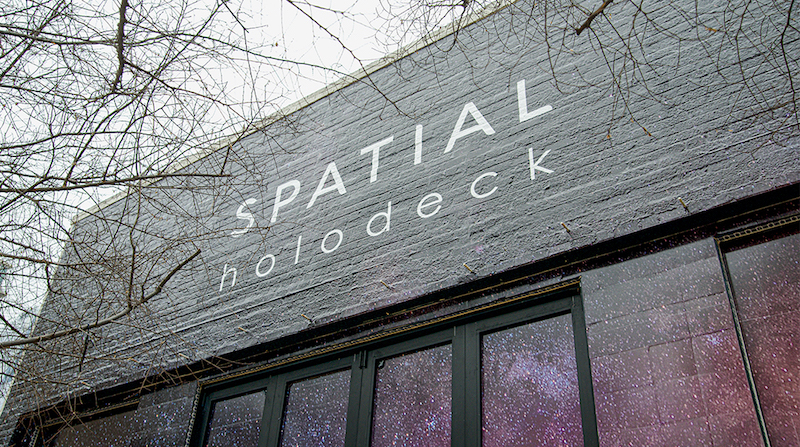 Guests at the Spatial Holodeck were surrounded by 360-degree immersive audio as they explored scenes from around the world and learned about Spatial technology throughout; guided demonstrations, a sonic listening lounge, hands-on opportunities with Spatial Studio, and a stage for panel programming. The Spatial Holodeck partnered with arts and entertainment collective Meow Wolf, who designed a pop-up exhibit that took guests through an experiential journey with interactive moments within the Spatial Holodeck.
The Challenge
The team at Spatial expected a very diverse SXSW audience for their largest public-facing activation to date. With only 90 days to bring this event to life and four days to build the activation, the stakes were high for Spatial to find a team that could help them implement systems that would seamlessly work together.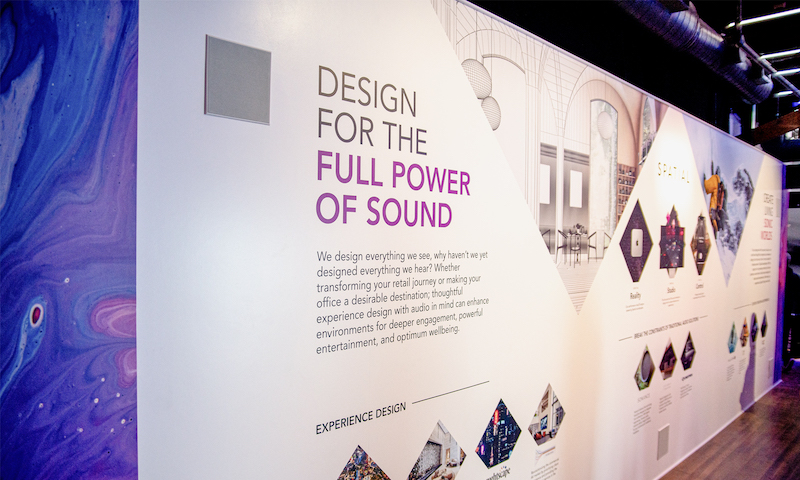 With multiple spaces throughout the 3,700 square foot venue, and acoustic challenges, including 14-foot ceilings lined with exposed ductwork in the interior space, it was crucial to maintain audio quality. With these challenges and a desire for high-quality audio to elevate the distinct spaces throughout the activation, the team at Spatial reached out to Felix Media Solutions, for their world-class professional, creative, and technical capabilities with a focus on bringing their customers' visions to life.
Spatial Requirements
The initial requirements for the project included finding an audio solution with common voicing and even, balanced coverage to connect with people in each space including bringing together an indoor and outdoor experience that integrates world-class ambiance anywhere on the property. Another goal was redefining social experiences using technology and premium audio, while ensuring the technology disappeared into the space for a one-of-a-kind experience. Lastly, the project would require exceptional project management with world-class communication and coordination to ensure timelines were met.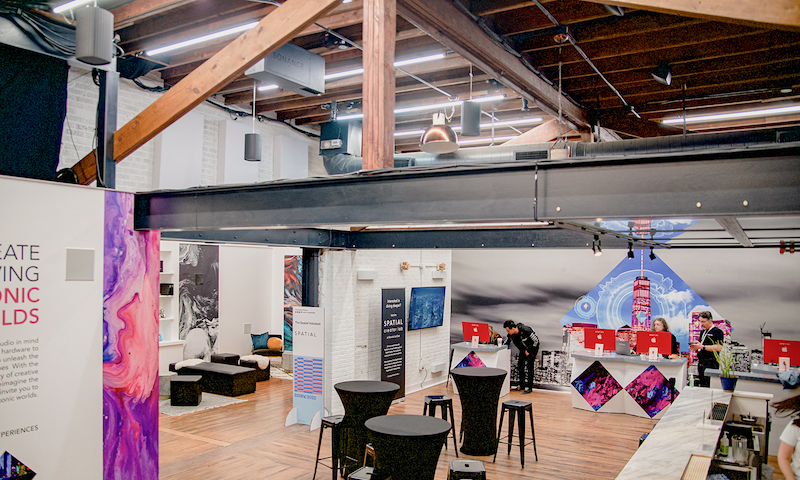 "The beauty of experiential design, which can be as simple as a conference room or as sophisticated as The Spatial Holodeck experience, is that the technology must be invisible so that the story can speak for itself," noted Lionel Felix CEO, Felix Media Solutions. "What's beautiful about the technology experience in the Spatial Holodeck is that it was invisible. And that's the best thing I can say about technology, is that it must disappear into the background and let the story be bold. This wasn't just about technology, this was about an immersive experience, and anything from the Sonance and James Loudspeaker product line guarantees that it is always going to work and deliver in beautiful ways to achieve such experiences. It's a testament to the build quality of the Sonance gear."
Professional audio integration is more than merely filling a space with sound; it's a tangible design element and a critical part of the space's environment that is meant to create a mood and elevate the senses without distracting from the designer's vision and aesthetic goals. For over 30 years, the architectural speaker pioneers at Sonance and James Loudspeaker have continually explored and refined the fine art of musical fidelity within a designed space, with their series of award-winning in-wall and in-ceiling speakers.
With Spatial, design principles are no longer a concern; spaces can now be designed with visual and audio intent in mind all while keeping the aesthetic and acoustic value of spaces at the highest priority. The Spatial Holodeck proved that by working with Sonance and Felix Media Solutions, seamless, custom and flawless integration can be accomplished; time only became an obstacle, not an inhibitor.
Integration (installation) began offsite at the Pink Sparrow warehouse in Los Angeles, where Sonance speakers were installed in pre- constructed frames that were then shipped to Austin while Felix Media Solutions began installing Sonance speaker wire runs into the venue's activation spaces in anticipation of the panels' arrival and installing ceiling-mounted speakers and subwoofers. Both teams worked together to build connection boxes that were designed to meet the pre-arrival runs that Felix Media Solutions installed in the venue, allowing for a transition between the work done in Los Angeles and that done in Austin as activation components arrived and were assembled.
The team at Felix Media Solutions wanted to ensure that they integrated evenly balanced sound that was not only acoustically tuned but would also enable a truly experiential environment. Spatial had a very specific vision and high expectations of partnering with the best in technology, audiovisual, and IT. Felix Media Solutions understood the pre-work integration and preparation that went into a complex commercial activation.
With a very short timeline and a very strict project management schedule, the team at Felix Media Solutions was able to install over 179 channels throughout the 3,700 square foot activation as well as the exterior pop-up with Meow Wolf.
Here's a breakdown of what was used and where in the Spatial Holodeck experience:
Guided Demo – A combination of over 32 speakers were installed in the 20- x 20-foot room to fill the space with rich, detailed bass frequencies. This install consisted of numerous James Loudspeaker PD62-4 Pendants, Sonance Mariner 56, Impact i12, and PS-S210- SUBT Subs in the ceiling.
Liminal Space – The entryway to the Guided Demo consisted of 20 speakers — 18 Sonance AS38S in-wall speakers with two James Loudspeaker PD62-4 pendants. This 20- x 10-foot walkway enveloped the room with soft content, and was a well-received auditory-warmup to the Guided Demo.
Listening Lounge – The listening lounge consisted of five James Loudspeaker PD62-4 pendants, two James Loudspeakers OW53 on-wall speakers, four Sonance Mariner 56 speakers behind the fabric, seven Sonance VP66 in-wall speakers, four Sonance AS38 in-wall speakers, one Sonance PS-S210SUBT sub, and one Sonance Impact i12 sub.
Tech Space — A combination of James Loudspeaker PD62-4 pendants and OW53 On-Wall speakers were utilized, along with Sonance Mariner 56 speakers, Visual Performance VP66 and Architectural Series AS38 In-Wall Speakers, and Impact i12 and PS-S210SUBT Subs.
Meow Wolf — The Meow Wolf exhibit showed off Spatial's dynamic abilities. With interactive exhibits scattered throughout the venue, Spatial's software was able to virtually place specific content designed for each individual island. The Meow Wolf exhibit consisted of a 40- x 60-foot tent with 61 channels of audio. Speakers included Sonance Mariner 56 Speakers, PS-S210SUBT and Impact i12 Subs, and James Loudspeaker PD62-4 pendants.