Starke Sound, the Gardena, CA-based audio products manufacturer, has launched its new Fiera multichannel amplifiers, built for enthusiasts seeking higher fidelity from their surround and immersive systems for both film soundtrack and music reproduction in their homes.
These new models were designed to provide substantial power and effortlessly realistic sound.
The Fiera4 ($1,499 MSRP) is a second-generation, 4-channel, Class D amp using the unique architecture and proprietary technology found in previous Starke designs, and can be bridged for 2- or 3-channel operation.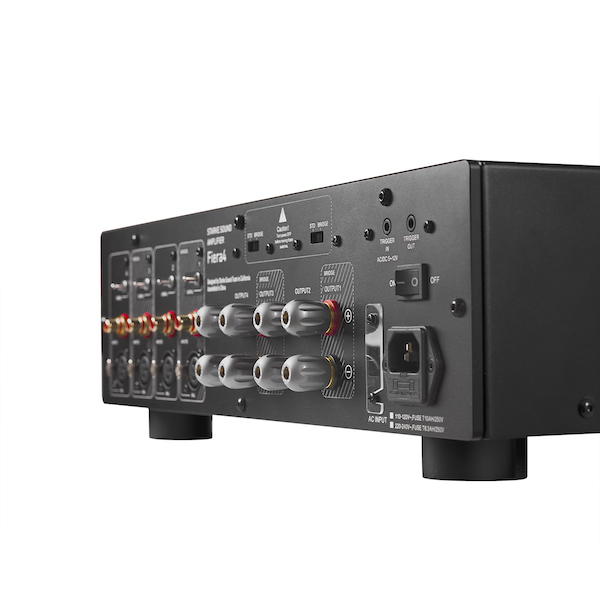 Users can upgrade the sound from their audio/video receivers with the Fiera4 driving left, center, and right speakers, add height channels for an immersive rig, or power a 2-channel audiophile music system.
The Fiera8 ($1,999 MSRP) is a pure 8-channel, Class D amplifier for home theaters. Both models employ Starke Sound's new, proprietary, 1-kilowatt SAPS switch-mode power supplies and NS600 amplifier modules to deliver 260 watts RMS per channel into 4 ohms with very smooth sound quality.
Starke Sound Fiera amps use proprietary power and amplifier modules. The SAPS (Shielded Switched Audio Power Supply) is the brand's switch mode power supply. The switching frequency of 350kHz was selected because it is not an even multiple of the main Class D switching frequency until several MHz. The SAPS was designed to deliver 100% of the required power at all times, without brownouts or high idling losses even when power mains fluctuate up and down.  It has "battery-quality" flat and quiet DC power rails, separate module boards (no shared ground plane) to minimize noise, and a large aluminum shield to contain what little stray EMI radiation is produced.
The NS60, the brand's Class D amplifier module, has a high switching frequency (600kHz) to improve naturalness, treble extension, and detail, and its gain of 21.5 dB was chosen because it falls between professional and consumer levels. No adapter board is required to switch between balanced and unbalanced operation; this is done in the amp module, where signals are better buffered and post-switch traces are kept short.
The Fiera4's unique input functionality allows user to choose between 2-, 3-, and 4-channel operation, bridging with speakers always connected to positive and negative binding posts.
The performance of the Fiera amplifiers is optimized for lowest noise and distortion at typical listening levels. Our priority is the best sound quality in real-world use.
The Fiera4 is available now. Sales of the Fiera8 will begin in August 2022.
ICYMI: Hunter Douglas PowerView Gen 3 and My Home Automation Wish Fulfillment