SVS has developed its new 3000 In-Wall Subwoofer, a breakout first offering in the architectural subwoofer category from one of the fastest growing audio brands in the world.
SVS says that they "spared no expense" creating an architectural subwoofer that meets all the needs of the custom integration professional. The SVS 3000 In-Wall Subwoofer was designed for easy installation in existing rooms and new construction, comprehensive control and tuning capabilities, versatile amplifier design, and reference low-frequency performance on par with traditional cabinet subwoofer designs.
Generating massive sound pressure levels with accuracy and control are a pair of custom designed high-excursion 9-inch drivers built into a sealed aluminum and MDF cabinet that fits discretely in the stud bay. Oversized motor design, custom-tooled basket, and rigid yet lightweight aluminum cones on the pair of active drivers are optimized for maximum acoustic output and thermal efficiency from a compact enclosure.
Related: SVS 3000 Micro Subwoofer Shows What's New in the World of Bass Performance
SVS designed a unique version of its Sledge amplifier platform for this SVS 3000. Conservatively rated at 800 watts RMS and 2,500 watts peak power, the amplifier combines the high-current output of discrete MOSFETs with Class D efficiency and the processing power of a 50MHz Analog Devices DSP. The 3000 Micro subwoofer's amplifier produces sustained high-current output for the most difficult low frequency playback without clipping or bottoming out. Convincing, high-impact audio experiences from a low-profile design, without a trace of distortion, according to SVS.
The 2U rack mount amplifier also provides integrators with more installation versatility. For most clients, a single amplifier can be set up to output the full 800 watts to a single subwoofer. For those seeking a truly over-the-top low frequency experience or looking to fill a large listening area, a single amplifier can also be configured to supply 400 watts to a dual subwoofer array. The SVS 3000 In-Wall subwoofer can be tuned and controlled via the amplifier's front panel interface with its LED display feedback, or the groundbreaking SVS subwoofer control and DSP smartphone app.
Harnessing the power of the Sledge amplifier is a 50 MHz Analog Devices Audio DSP with 56-bit filtering, the most sophisticated DSP engine available in a home audio subwoofer amplifier. The abundant processing power maintains pristine sound quality that is faithful to the source material through advanced in-room tuning, optimized frequency response curves, powerful DSP controls and more.
The SVS 3000 In Wall also features convenient control and custom presets via the SVS subwoofer DSP smartphone app for Apple, Android, and Amazon devices. The SVS subwoofer app is the most sophisticated way for installers to set and control volume, adjust crossover frequencies, set the three-band parametric EQ, polarity, room gain and more, all from the listening position. Bi-directional feedback shows the adjustments in real time on both the app and the front panel amplifier interface.
Integrators can also program custom presets optimized for music, movies, gaming, and more for one-touch selection between listening modes.  Multiple standby and wake-up modes allow for seamless integration into a wider AV system. Bluetooth connectivity allows full control, even when the subwoofer is out of sight.
Aircraft-grade aluminum panels were custom formed into rigid 2.5mm thick front and rear baffles around an MDF frame to create a sonically inert enclosure for the drivers. Extensive front to back bracing eliminates any potential cabinet resonances even at extreme playback levels. A detachable magnetic grille is acoustically transparent and paintable for blending into the home environment.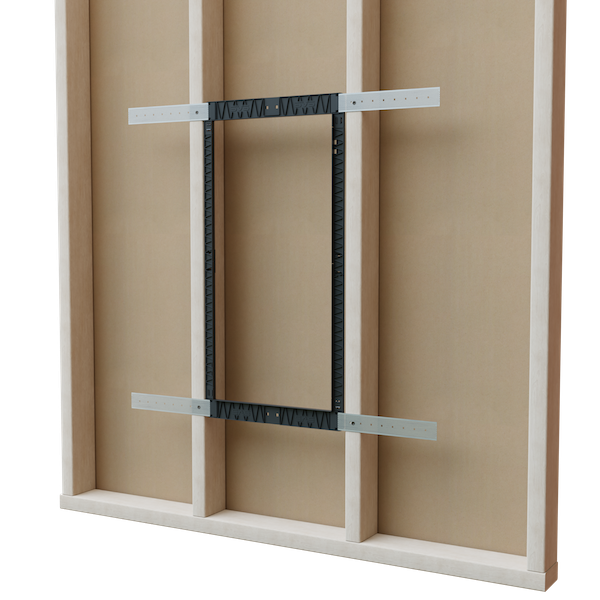 Installation of the SVS 3000 In-Wall is simple for both retrofit and new construction. A template is provided for precise cutout of the mounting hole, and the sealed-box design allows for simple and fast installation using dog-leg clamps attached to standard 16-inch on center studs. When installation is directly up against a stud, the enclosure uses screw holes for direct mounting. An optional pre-construction kit with template is available for new construction. Once installed, the resonance-free enclosure ensures pristine low frequency output with vanishingly low distortion.
"The 3000 In-Wall subwoofer has been in development for quite some time from SVS because our engineers were never content with anything less than reference performance for this important category," said Gary Yacoubian, SVS president. "An architectural subwoofer that delivers truly breathtaking output with astonishing depth and accuracy, plus sophisticated tuning and control is a first. No more compromises for clients who want reference quality bass without taking up floorspace. Plus, it's easy to install in any room and provides unmatched versatility."
SVS 3000 In-Wall Subwoofer is available now from authorized SVS dealers. MSRP is $1,999 for single subwoofer system and $2,999 for a dual subwoofer system.