Mitchell Acoustics uStream Go Stereo Speakers Sound Great and are Solidly Built
Founded in 2018, Mitchell Acoustics is premier designer and manufacturer of Bluetooth-based audio products. The brainchild of Paul Mitchell, a British audio specialist and professional producer/musician, and audio engineer Alex Leung, Mitchell Acoustics' mission is to bring high-quality stereo sound to both casual and serious music lovers at an affordable price point.
When I was introduced to the brand late last year and offered the opportunity to try out their uStream Go line of premier Bluetooth stereo speakers, I enthusiastically accepted, hoping to find a better way to listen to music at my desk. How would the diminutive speaker pair measure up to similarly sized and priced wireless speakers that had left me wanting more performance over the years?
The first thing I noticed upon unboxing the Mitchell Acoustics uStream Go was that the pair of speakers, though fairly small in size, were very solidly built. Their cube-shaped all-metal cabinets, with a seemingly impenetrable round front grill, and rubber feet belied their price ($449/pair). In other words, even though they were diminutive, their sturdy weight and build quality gave them the look and feel of more expensive speakers.
Each Mitchell Acoustics uStream Go speaker was fully charged out of the box. Following the directions in the manual, I pressed the power button on the rear of each speaker. Each speaker acknowledged the button press with an audible "Power On" voice in the British accent of company founder Paul Mitchell himself, followed by the word, "Bluetooth." I've connected many wireless audio products over the years, and generally have had no trouble pairing any of them to Bluetooth or WiFi. Initially, with the uStream Go speakers, however, the Bluetooth connection between the stereo pair did not occur as predicted in the manual.
What should have happened was that when the two speakers connected with each other, Mitchell's voice would confirm the link with the words, "Connecting to speaker 2" and "Speaker 2 connected." In the manual, there is a troubleshooting step involving a specific button press combination. I tried this this procedure multiple times, unsuccessfully, before finally emailing my press contact for assistance. He put me in touch directly with Paul Mitchell (now, THAT's service!), who walked me through a full reboot of the speakers. The connection worked perfectly after that reboot and has continued to work flawlessly for several months since. It was an unfortunate glitch for a press review, but it did give me the opportunity chat with the man behind the voice on my little speakers.
Mitchell believes that the introduction of his company's products into the U.S. marketplace gives the American audio consumer something they've been missing for a long time. "Many consumers who stream music use the standalone mono speakers that are popular today," he explained. "They are primarily used out of convenience, but there is no way they can produce true, high-quality stereo sound. Our uStream series retains the convenience of these standalone devices but produce beautiful stereo sound, reminiscent of what Hi-Fi was like years ago. They can exploit all streaming options and deliver sound much closer to what the artists and producers intended."
Like I noted, I've been playing with the Mitchell Acoustics uStream Go speakers for quite a while now. They sit at the far corners of the desk where I'm writing this review right now. With Spotify as my source, I've been blown away by the musical dynamics reproduced by the speakers. The stereo imaging, even with only about four feet distance between them, never fails to surprise me. As I sit typing at my computer, the phantom image seems to come directly from my monitor screen, rather than directly from the speakers a foot and a half to the left and right of center.
I true test of a smaller speaker is its ability to reproduce bass, and the Mitchell Acoustics uStream Go speakers are solid performers in that regard, thanks the bass reflex driver on the bottom of each speaker. The speakers are officially rated at 30W RMS (15w RMS per channel, 18w peak power per channel) with a frequency range of 50Hz-18kHz and an impedance of 4 ohms. There's certainly no rumble of low-end, but the frequency range has been more than healthy enough to measure up to my expectations on familiar tracks.
Buttons on the back enable you to increase on lower speaker volume directly on the device (though doing volume controls on the side of your phone will get used more often). A 3.5mm stereo jack socket allows wired source connections, if preferred, and play/pause can also be controlled by the back panel.
You can use the Mitchell Acoustics uStream Go as your preferred Bluetooth speaker with any smart home device, such as an Amazon Echo or Google Home. This means you can use voice control to select what music to playback and listen in full stereo via your uStream Go speakers.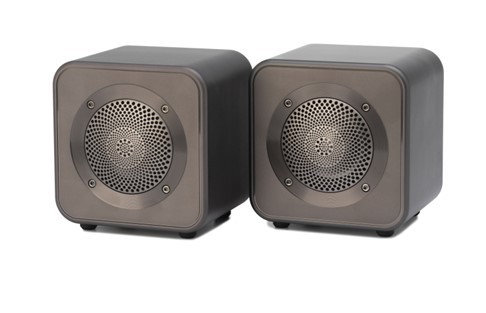 When the speakers go too long without music playing, then a default setting turns them off automatically with an always-startling "Power off!" declaration from Paul Mitchell's recorded voice. I haven't officially timed the period of time before the automatic powering down, but it feels like about 15 minutes.
I have absolutely no complaints about the musicality of the Mitchell Acoustics uStream Go speakers, their ability to quickly and easily connect via Bluetooth to my mobile phone, or the life of the 7.4V/8000mAh lithium-ion battery that can be charged via an included 5v USB-2.0 to twin USB-C "Y" cable after 30 hours of continuous use. My only complaint — and it could be a big one for many use cases, — is the limited range of the Bluetooth signal between speakers.
As much as I love the "near-field monitor" setup on my office desk, when I've wanted to see what the speakers sounded like when placed farther apart in my office, the connection between the speakers quickly drops. Four feet is very limited range for Bluetooth, so this is likely a production flaw in my particular speaker samples. At least I hope it is. Just be warned that your mileage may vary when it comes to stereo separation.
Otherwise, I wholeheartedly recommend Mitchell Acoustics uStream Go for their musicality, build quality, and power efficiency, when used in a desktop or small room setting. If you're looking for speakers to fill a room, however, you might want to look elsewhere, such as the company's larger uStream One system ($499) or uStream Two is $999. The company also sells its TT2 turntable for $349, for those wanting to enjoy the on-going vinyl renaissance.
For CEDIA dealers looking to represent Mitchell Acoustics, contact Shane Mullikin of Next Level Distributing at 561.863.7704 x150, or Bill Boyer at bill@channelsavants.com.