TCL's Smart TV line up is about to expand and change with the introduction of the brand's new 6- and 5-Series models, powered by Google TV.
Mention the phrase "Roku TV" to most consumers and their answer will most likely include TCL as the brand. While there are more than a dozen Roku TV brands, TCL has by far been the most popular, regularly ranking in the top four best-selling TV brands, often as high as second. However, it is less well known that TCL has also sold sets in their 4- and 3-Series lines powered by Android TV.
If you don't follow these things closely, Google TV is the latest version of Alphabet's TV user interface, first introduced with their Chromecast with Google TV product. Eventually it will likely replace the original Android TV as the "smarts" behind smart TVs from Sony, Hisense. Android TV also currently powers external streaming products such as the incredible Nvidia Stream and with a slightly modified UI TiVo Stream 4K and Sling's AirTV Mini.
For now, both Google TV and Android TV will co-exist in the market.
Google TV's Easier Interface
The original Android TV still lurks underneath the hood, but what Google TV brings to the fore is a new, easier to understand interface. The look is cleaner and more modern, and it is easier to search for your favorite programs or to find new ones. Viewing Google TV on the new generation Chromecast running Android TV 10 and the Nvidia Shield with the latest updated version of Android TV 9, the main differences are the elegance of the top-level search and select functionality.
Perhaps the most noticeable visual difference is that with Google TV the selectors run horizontally as elegant words across the top of the screen, similar to what you see on an Apple TV. Android TV runs them horizontally on the left side of the screen with a larger font for the words and an icon.
Google TV also does content recommendations and an integrated Live TV channel guide that are accessed via voice or menu control. Of course, all Android/Google apps, services, and content will continue to be available through the Google Play Store
Other Google Features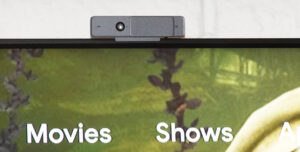 Does it really make a difference? As with anything visual, that's up to you as the viewer. What is perhaps more important than interface are the additional features available as a TV that is part of the Google/Android ecosystem.
Thanks to a built-in far-field mic array, you can now issue commands to the set as well as control Google Assistant-enabled devices in the home. Smart speakers or Android phones may also control the sets, as can the remote's built-in mic.

Since these sets do take advantage of Android apps, one key distinguishing feature will be the ability to connect a camera directly to the set for video calls. According to TCL, the camera will work with many popular apps, but Google Due is the only one that they recommend.
Similarly, the sets have been tested with multiple webcam products, but TCL recommends that you use their own, optional, camera for best results. It will be available for $79, when the sets ship.
TCL's Video Performance
Of course, features are important, but for a TV the video performance is clearly the most critical detail. As befits their designation as part of TCL's 5- and 6-Series model lines, all are 4K and include features that one would expect from TCL. All Google TV models have narrow bezel, edge-to-edge, screens. QLED with quantum dot technology for vivid and saturated colors is also there across the board. Also included is a full range of popular HDR formats: HDR-10, HLG, Dolby Vision, and HDR-10+. On the audio side, Dolby Atmos is also included.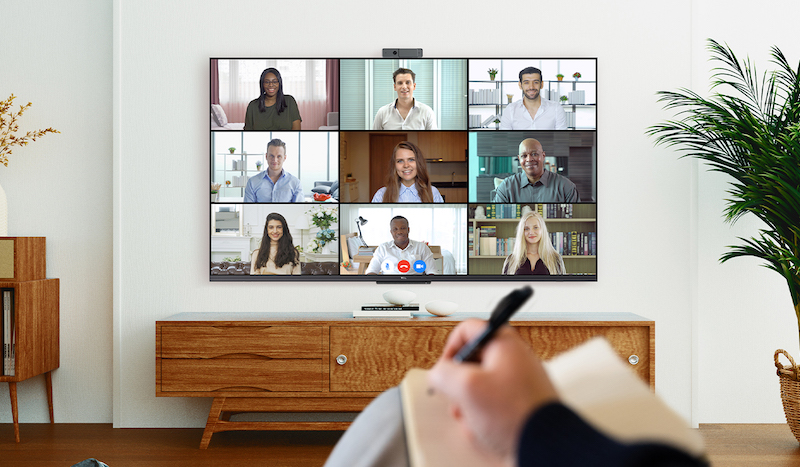 Gaming has gotten a big boost while many of us were locked down during the pandemic, and these new sets respond to the extra performance demanded by the latest game consoles and PC gaming. The design and AiPQ processor deliver variable refresh rates as part of TCL's Auto Game Mode.
The 5-Series models have 60 local dimming zones, three HDMI 2.0 ports (including one with eARC), and Wi-Fi 5 (802.11ac) connectivity. The 50-inch model will list for $599, the 55-inch version for $649, the 65-inch model for $899, and the 75-inch model for $1,299. Preorder available now, and they will ship in a few weeks.
mini-LED Backlighting
TCL set the video world on its head, or perhaps more precisely its eyes, when they announced an 8K model in their Roku TV line with mini-LED backlighting. The Google TV 6-Series models are all 4K, but they also have the mini-LED backlighting to deliver 240 Contrast Control Zones. They have four HDMI inputs, two of which are HDMI for video up to 4K/120Hz along with VRR and ALLM, and one of the 2.1 ports has eARC. THX Game Mode is also on board. Finally, the Wi-Fi ups its game to Wi-Fi 6 (802.11ax).
The 6-Series models will be available within a few weeks, shortly after the 5-Series models hit stores. The 55-inch model will be $999, the 65-inch model lists for $1,299, and the 75-inch version will be $1,799.
Final Thoughts on TCL and Google TV
One might ask why TCL, which has become a top-selling brand through their Roku TV models, would appear to switch streams to Google TV. The most important thing to remember is that the new Google TV models do not replace any of the Roko-based products; they remain firmly in the line and still offer TCL's only 8K products, as well as an entry in their premiere 8-Series line. Indeed, many pundits are predicting that the 6-Series, 8K TCL Roku TV models with miniLED backlighting at $2,199 for a 65-inch set and $2,999 for the 75-inch model will be huge hits this selling season.
So why divert to Google TV? The answer may be simple. Each of the major Smart TV operating systems, including the captive Samsung and LG interfaces, Amazon's Fire TV, Google TV, and, of course, Roku TV, have their partisans and detractors. Google, however, may appeal to a younger demographic, and there are certainly those who prefer it. Of course, a manufacturer can integrate voice command capabilities for Amazon Alexa, Google Assistant, and even Apple's HomeKit/Siri into a TV without using that system's interface. Vizio, among others, have done just that.
There is something to be said for going all in to serve those who are simply more comfortable with Google. By bringing out Google TV sets with the latest features at very competitive prices, TCL is, to some extent, hedging its bets by appealing to an even wider audience than they do now.
Time and the year-end shopping season's results will tell the tale as to whether this approach is the right approach, but I would definitely not bet against TCL's chances for success with this interesting new TV line.
Check Out TCL a Year Ago: Display Week and TCL News Provide Insight into Future of TV Technology