Telly is about to be known not just as a reference to any generic television in England, but as a specific brand of TV. Two distinctive features will the separate the new Telly from any other TV model. First, it is a dual-screen device with a 55" 4K main screen and a second, separate, lower screen. That second screen displays a wide range of customizable information such as sports scores, weather, stock market information, and a lower third news ticker crawl. Oh, and here's the catch, that second screen will also include static and full-motion ads.
Those ads are the key element of what makes the Telly interesting. Thanks to their revenue as well as the other viewer data collected, Telly is FREE. Yes, that's right, the first 500,000 people to put in a reservation using the iOS or Android app will get the set when it starts shipping this summer. Yes, you certainly have to accept all the information that Telly will have about you and some might find that deep level of data mining and capture unacceptable. On the other hand, did I mention that Telly believes that this set has the features that, if sold at a retail price, would justify a $1,000 price? After all, remember that there is no such thing as a free lunch, but what this meal offers in exchange for your data is interesting.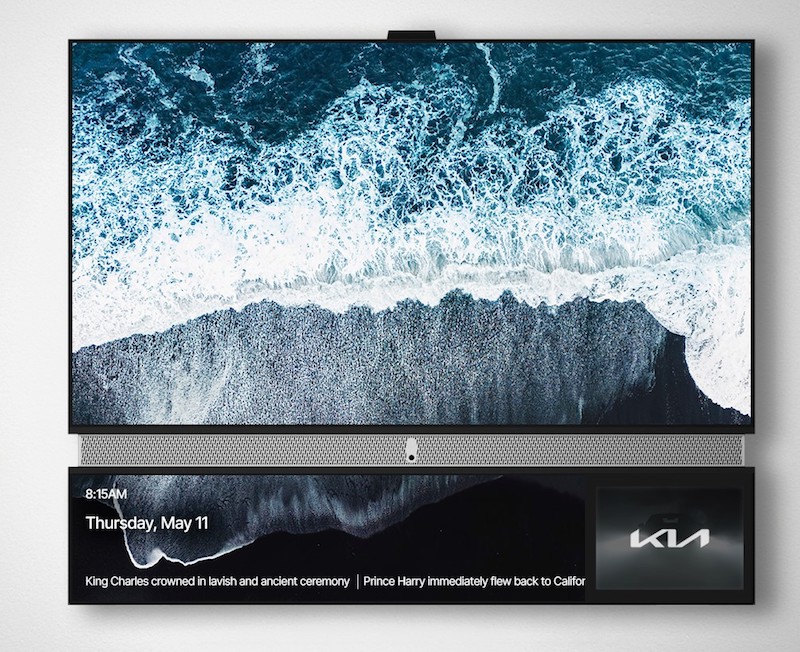 From the technical side, this is an LED back-lit 4K LCD with three HDMI 2.1 and two USB inputs, HDR, HDR-10+ and HLG, and a built-in tuner. Telly does not skimp on audio, with a five-driver sound bar sandwiched below the main screen and the 1080p Smart Screen.
There is a built-in HD camera for video calling, fitness applications, and interactive gaming, a far-field mic array, and a motion sensor. Also promised to come will be frequent OTA (over-the-air) push downloads for new features such as smart home control and additional apps and software updates. The mics will also enable voice control using "Hey Telly" as the wake word. Wi-Fi and Bluetooth connectivity are the data pipes.
Fine, you might say, other than the price why is this different than any current smart TV or TV with an external streaming product connected? The answer lies in the integration of those same external streamers and the services they bring in, the proprietary TellyOS and the use of the second Smart Screen. Telly's main screen operating system experience does not actually present the menu of streaming services that other smart TVs do. That is delivered through an external 4K Android TV streaming stick that comes with a Telly, or through the user's own streaming device such as a Roku, Fire TV, Apple TV, or other Android or Google TV-based dongle connected to one of the HDMI inputs.
Rather than present tiles or carousels of services, TellyOS programs the second screen content via widgets. Among the options and possibilities are free, motion-tracking fitness programs using the camera and motion sensor, a library of video games, voice assistant, and access to a music library. Video calling is a key feature, including built-in Zoom connectivity.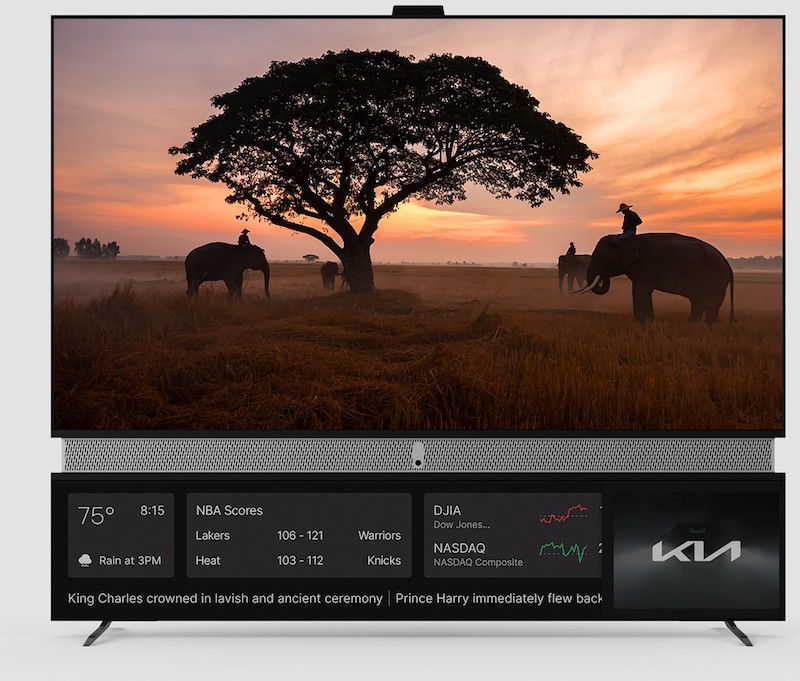 Put together, this is an impressive feature package and an innovative approach that merges smart TV and streaming services with interactivity and content delivery. To some this might all sound a bit intrusive, but then again something has to pay for all of this, and the data gathering is it. Others might say that the idea is a bit off the wall, but you have to give them credit for trying something truly out of the box.
Keep in mind that Ilya Pozin, the founder and CEO of Telly, was also the co-founder of Pluto. At its inception back in 2013, the idea of a new model to deliver free, advertiser-supported TV content was also deemed by many to be unworkable. The skeptics were proved wrong as Pluto become the vanguard of what is known as FAST (Free Ad Supported Streaming Television) and is now owned by Paramount Global. That idea has spawned numerous competitors, and FAST has become a huge distribution methodology generating billions of dollars in ad sales.
One might say that with Telly the notion of "free TV" has now come to be taken quite literally, as not only is the programming free, but with Telly so is the TV, itself. This is one of the most interesting ideas to come across the media and consumer electronics scene in a while. It is worth watching to see if it succeeds the way that FAST has.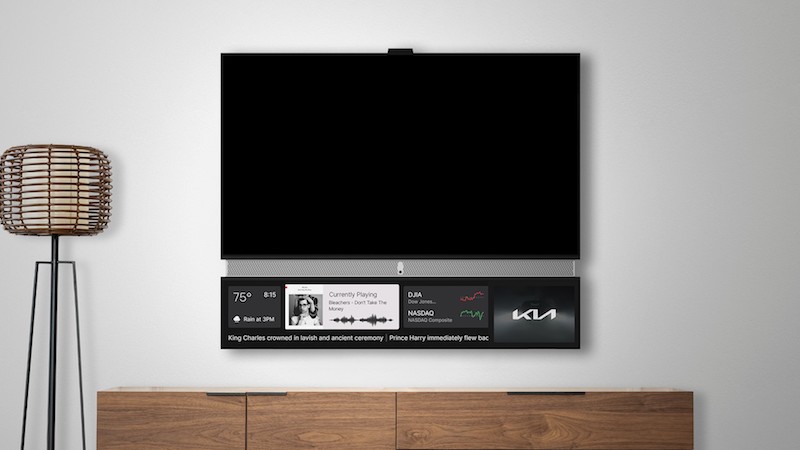 Here's where I usually close with the price of a new product, but for once the answer is FREE. Sign up at the company's website to reserve a Telly or through the iOS and Android apps. Note that using one of the apps is required to complete the reservation process where you must answer the questions that presumably will help Telly and its advertisers determine ad targeting. Is giving up some information, most of which is likely already in the hands of marketers anyway, worth it? Given the experiment and the offer of a free TV, I plan to give it a whirl. Telly is slated to ship this summer. We'll keep you posted.