Apple WWDC announcements that impact the residential ecosystem and environment from the software perspective
Apple's annual World Wide Developers Conference (WWDC), is an June tradition where the company meets with developers and gives them the inside information that they need to create new apps and programs for upcoming versions of Apple's software and hardware.
Starting with the Monday keynote, WWDC followed the traditional menu for about 90 minutes until Apple CEO Tim Cook appeared to be wrapping things up. Then, he took a pause and a breath before he channeled a line that Steve Jobs used to use at his Apple keynotes, or perhaps Peter Falk playing Lt. Columbo: "…one more thing…"
To no one's surprise, that "thing" was the long-awaited Apple AR headset, which will carry the name Apple Vision Pro. Apple is calling the concept "spatial computing" rather than use the more familiar descriptions of VR (fully immersive digital Virtual Reality), AR (Augmented Reality that overlays digital elements over live, real world images), MR (Mixed Reality, which is a mash up of VR and AR, but which typically allows a real world view of live and digital elements), or XR (Extended Reality, which is often used as an umbrella term to include all of the above). When you finally get a chance to experience it, which I have not yet done either, the keynote presentations made it clear that what Apple Vison Pro does will immediately become clear.
Related: What You Need to Know About Apple HomePod Gen. 2
Given its hype, by now you will have probably read or seen reports on Vision Pro, so at this point we'll leave that to others, along with the other new hardware. To be sure, the new 15" MacBook Air, the new Mac Studio, and Mac Pro — both with the M2 Apple Silicon — may be of interest both for your personal and professional lives, but the title of this publication is Residential Tech Today. Thus, it makes sense for us to cover the announcements that hew to that category that you may not have seen elsewhere.
Don't worry. You'll see coverage of Apple Vision Pro here going forward, but just in case you missed it, it is worth mentioning that the price will be $3,499 when it hits the market "early next year" at Apple stores and Apple.com. For all that was shown, there are a number of questions regarding actual use that I am waiting on answers to from Apple. When those are known, you'll see a more comprehensive report in this space.
Given that, let's look at was announced at WWDC that impacts the residential ecosystem and environment from the software perspective. It's actually more than you might have expected.
FaceTime and Video Conferencing for AppleTV 4K
Most obvious is the forthcoming tvOS 17, which is available now to developers with a public beta program set for July. General public availability for the free software update is set for this fall.
tvOS 17 will be proof that while a product's hardware may remain the same, its feature set can continue to evolve and add new features. The one that may see the most use is the addition of FaceTime and video conferencing for Apple TV 4K users. With the new FaceTime app, new tvOS users will be able to start a call on an iPhone or iPad and then hand it off to the Apple TV, or the Apple TV may be used to initiate the call directly. An integral part of this will be Continuity Camera support that will let you wirelessly connect to your iPhone or iPad to leverage the device's camera and mic.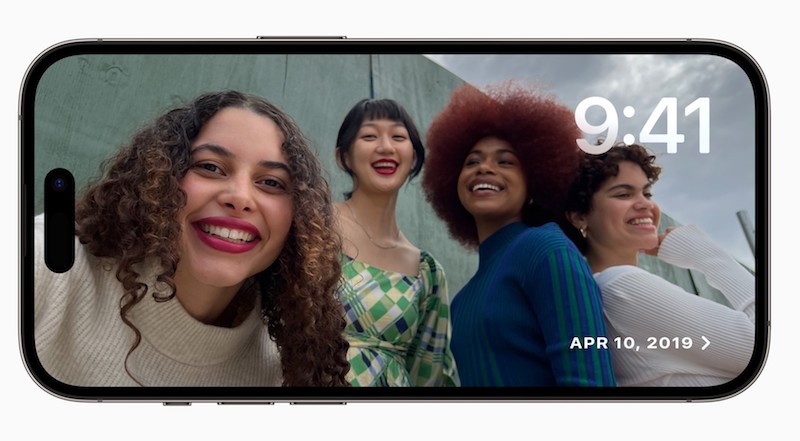 Center Stage, previously introduced for iPad, iPad Pro, and certain Macs, will come into play here to keep everyone in the room perfectly framed even as they move around. Adding personalization gesture-based reactions will let you add effects such as fireworks or hearts to the FaceTime call. There will even be the FaceTime equivalent of call waiting, with a notification alerting you to another incoming FaceTime caller and you will be able to switch back and forth between the two calls.
Expanding voice calling even further the same type of iPad/iPhone camera and mic integration will be possible later in the year for Zoom, Teams, and WebEx by Cisco on tvOS along with FaceTime.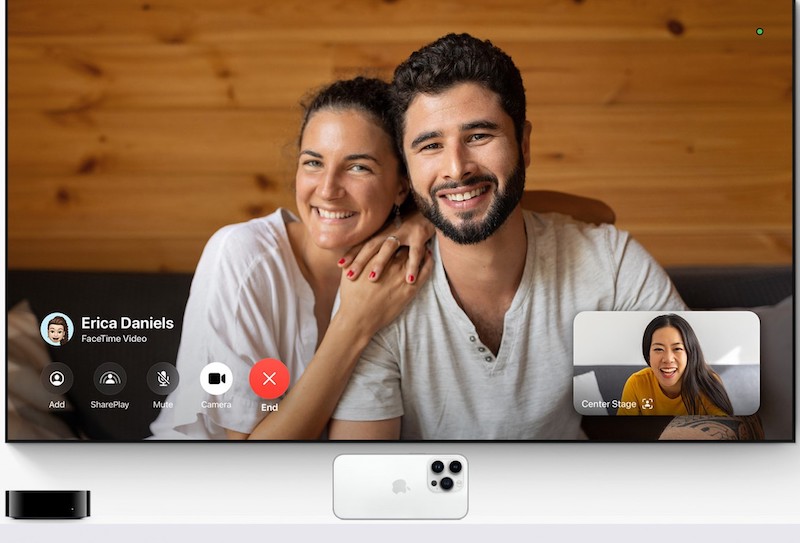 Thanks to the Continuity Camera features and Presenter Overlay, video conferencing on Macs will even enable the presenter to walk across the screen field overlay, just as the local news weather person does in front of the forecast map. Even as many are saying that Work from Home is being forced out by Return to Office mandates, video calls are not going away, and the new features for that announced at WWDC will make them more productive.
Jumping over to the new iOS 17 and iPad OS 17, as well as the new Sonoma OS for Macs, there will be similar additions to the products driven by those software updates for their respective products.
Support for Dolby Vision 8.1 and a Remote Locator
On a more practical basis for daily viewing, tvOS 17 will include support for Dolby Vision 8.1, third-party VPN support, a dialogue enhancement feature to help voices be heard more clearly over effects and music when the Apple TV 4K is paired with the 2nd Generation HomePod, and improvements to Apple Fitness+ using the Apple TV 4K.
Proving that sometimes it's the little things that count, the new tvOS will strengthen the integration of iPhone and Apple TV by letting Apple TV remote on the iPhone's Control Center help you fine the 2nd Gen Siri Remote when it inevitably disappears under the cushions in your couch.
AirPod Enhancements and Sonoma OS for Macs
Also, on the entertainment and audio sides of the Apple ecosystem, there will be a software update for AirPods. With that update, there will be Adaptive Audio for improved noise cancellation that switches to greater transparency pass-through when someone speaks near you while still drowning out distracting background noise.
Other home-centric announcements were upgrades to gaming on Mac products with the new Sonoma OS. Improvements will lower latency for speakers, headsets, and wireless controllers for a greater sense of immersion without lag.
Further showing the bridge that WWDC facilitates between hardware and software/app developers was an increase in attention to the software tools available to game developers. A good example of that was the reveal that Death Standing, a top tier game created by Hideo Kojima, will be available for the Mac platform before the end of the year.
As noted at the start of this article, looking at most of the press reports it might seem that Apple's Vision Pro was the only announcement of interest from WWDC. Clearly, that was not the case. For those of us in the weeds of residential technology there was clearly more news that will come to fruition well before the release of Vision Pro. Given the cost of that new products, for many of us those little new things may add up to a greater benefit in our daily lives.