Since its inception more than 20 years ago, TiVo has been instrumental in creating and popularizing the DVR, for which they hold multiple patents that are key to the technology. Throughout those years, TiVo has always been associated with products in the "set top box" form factor even as the world has changed to app-driven streaming devices, such as Roku, Sling's AirTV, Apple TV, Chromecast, FireTV, and Android TV products such as Nvidia's Shield on one hand, and OTA DVR products led by Tablo, Channel Master and HD Home Run on the other.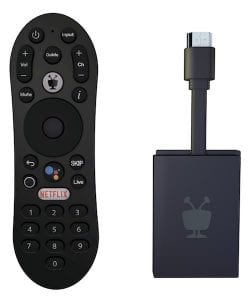 Yes, in their past few model line series, TiVo has included access to streaming service apps such as Netflix, Hulu, Amazon Prime Video, and others, but at its core the TiVo product offerings remain as OTA or cable-based DVRs (often considered the benchmark in that category.)
As of today, that is changing with TiVo Stream 4K, a small form factor, dongle-sized product that I first saw in a private meeting during CES and has been previewed on the company's web site for a while without a definitive release date.
The wait is over, and TiVo Stream 4K is now available for purchase at www.tivo.com/streamNOW for $49.99.
At first glance, TiVo Stream 4K resembles many of its competitors: It is a small, black, rectangular device that plugs into a TV or projector's HDMI port. Power is provided through a small "wall wart" adapter, and the streaming service options include all the majors, such as Netflix (with direct access via a button on the remote) Prime Video, Hulu, and the literally thousands of other apps that may be downloaded from Google Play such as Vudu, YouTube, MLB, Pandora, and all the rest. Most notably, Sling TV is the preferred source for content and Cloud DVR and a seven-day free trial is included.
Also familiar is TiVo's "peanut" remote, albeit in a smaller size than those shipped with the current STB-sized Edge and Bolt models. Also present is the TiVo+ free TV service, that is already resident in the STB models. Similar in content to the Roku Channel on that company's devices, or the fast-growing Pluto service (coming soon to TiVo Edge products as well as to the Stream 4K), it has a wide variety of AVOD channels spanning a broad range of genres.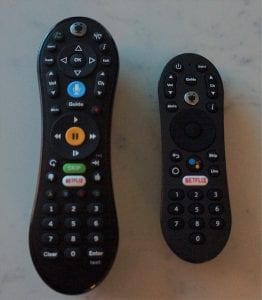 The one thing that is the most familiar about TiVo Stream 4K is its user interface. As previously noted, Sling provides the content data base, which includes local stations, as applicable to the level of service and other parts of the Sling architecture. However, rather than displaying the content listings as one would see on a Sling Mini or using the Sling app on other streaming devices, the guide data is shown and searched via the familiar TiVo interface and guide structure.
Whether you like one product's UI over another is definitely a matter of personal choice. Some prefer Roku's tile-centric approach, while others favor the vertical stack of horizontal bands divided by genre as is found in FireTV, Sling, and Android TV-based products such as Nvidia Shield and Android TVs. Others still are used to Apple TV's deck of individual apps that may be rearranged to suit the user's preference. Personally, I'm a fan of Roku's approach, though I also use multiple TiVos in my home for DVR of cable channels and services. The choice of what is better is up to you, but TiVo's Stream 4K definitely ramps up the streaming UI competition, and I await the chance to match it up against the competition.
Another feature of the Stream 4K is voice search, which has become somewhat mandatory in the category, though here it features the power of the Sling app in the background. Voice control using the Google Assistant is also there, as is Dolby Atmos, Dolby Vision, and as the name implies, 4K where applicable. There is no monthly TiVo subscription charge but, of course, subscriptions are needed for certain SVOD services, just as they would be on any other product.
Not having a chance to use it hands-on since CES I'll have to wait to try it out in comparison to other products. As soon as that's possible, we'll update this report with a first-hand evaluation. Until then, while TiVO is somewhat late to the under-$50 streaming device game, Stream 4K certainly carves out an interesting niche in the market and is certainly worth a look.