The URC TDC-9100, according to URC's National Sales Manager Lee Rambler, was the kind of touch screen that could change my life and make video conferencing easy from the office.
With so much emphasis on working from home and Zoomification, I've gone a little overboard evaluating all the gear out there oriented at making our video conferencing lives a little easier.  Next up was the URC TDC-9100, which is part of a new small office/home office (SOHO) solution created by the company during the COVID-19 pandemic. I was skeptical that it could really live up to Lee's hype, but I set out to give the gear a fair shake and see if there was really anything to crow about.
Another Review from Henry Clifford: Creating a Video Conference with the Barco ClickShare CX-50
Unboxing the URC TDC-9100
The TDC-9100 ships in a basic cardboard box and unpacks easily with basic instructions inside detailing how to connect the included battery and set up the charging base station. I had the whole thing set up in less than five minutes. URC also included one of their MRX-15 controllers to allow control over my TV, Vaddio conferencing camera, and NUC PC (it's a very small computer designed specifically to be connected as a video conferencing client in huddle spaces and offices).
Installation and Configuration of the URC TDC-9100
I made the physical connections from the MRX-15 controller to my TV using an old school IR emitter, and the rest of the gear connected via IP. The TDC-9100 joins the Wi-Fi network easily through its onboard wizard, making it ready for programming very quickly.
Here's where things got really cool. URC's Mid-Atlantic Sales Engineer, Brian Wells, hopped on a screen share with me and started remotely whizzing away. He updated firmware, found the video conferencing camera and my TV and created a shortcut to the NUC PC. He spent less than 15 minutes programming the entire thing.
Brian told me to try out the new setup, and it all just worked. I loved tapping the "NUC PC" option and seeing the TV, computer, and video conferencing camera come alive immediately. The screen was responsive and snappy with no lag at all.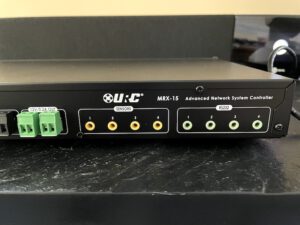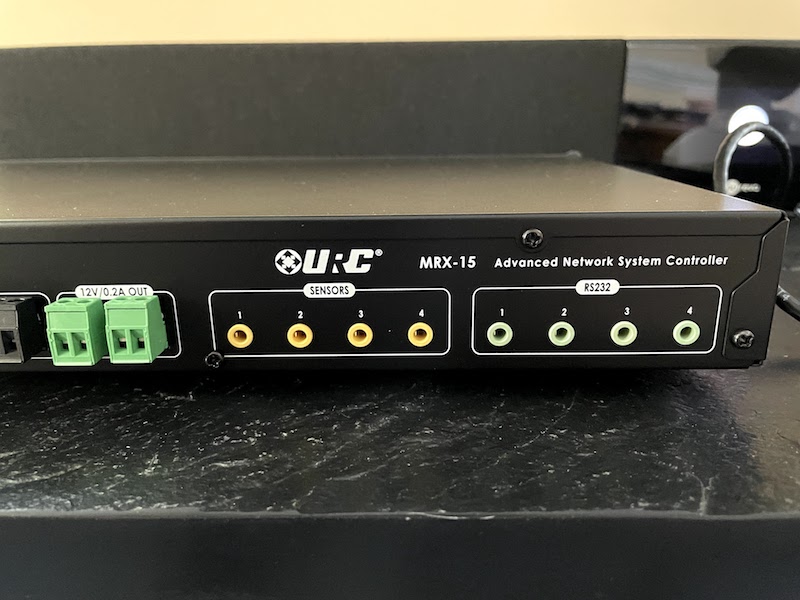 The final product reminded me more of an appliance doing its duty than a complicated piece of technology. One of my mentors said the final stage of any technology succeeding is when it "gets out of the way." URC's TDC-9100 does this handily and understands where it sits in the ecosystem.
Final Report
I've had a bias toward the iPad as a touchscreen since they debuted, but the URC TDC-9100 changed my tune a bit on that. There's something to be said for walking into a room and tapping a control device one time to get where you need to be. Doing the same thing with an iPad or smartphone would have required three to four taps.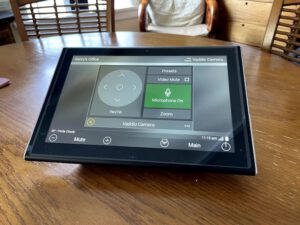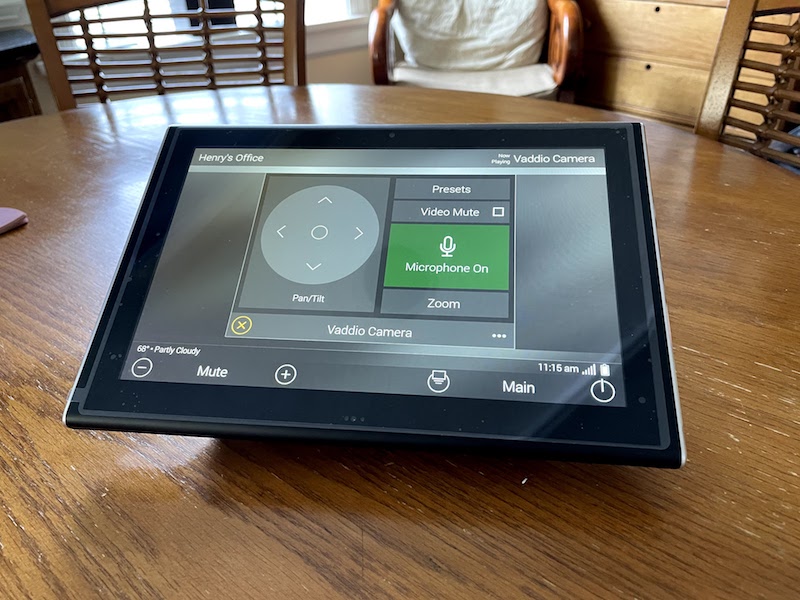 If simplification is the ultimate goal, products like the URC TDC-9100 go a long way to making a small video conferencing solution in an office just work. These leaps in simplicity are magnified when it comes to supporting end customers. If a homeowner or small business owner needs anything additional to make a group video conferencing call go well, that can turn into a support call.
We will be adding the URC TDC-9100 to our line up and keep it handy for situations where our customers need an easy one-touch video conferencing solution.