Alarm.com introduced the new Wellcam product at the International Consumer Electronics Show (CES) in January, and I wanted to try it out. Wellcam is squarely aimed at the independent living market, promising loved ones the ability to quickly check in on Mom to keep small issues from turning into big problems.
It sports a 180-degree Wi-Fi camera, Bluetooth speaker, activity monitoring sensor, two-way calling, and integration with Alarm.com's existing ecosystem. I set out to find out if Wellcam was as good as Alarm.com claimed.
Unboxing
The packaging is well done and minimalistic. Just the camera, basic instructions, and a power adapter. That's it.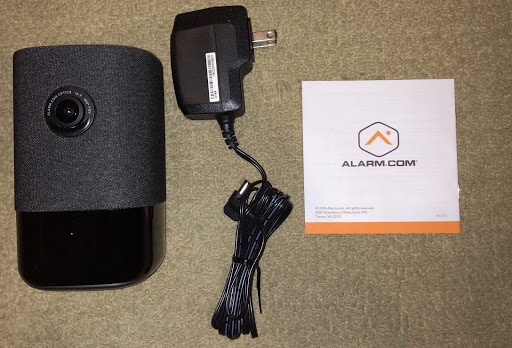 Setup
The included Quick Installation Guide directed me to plug in the camera and connect to its internal Wi-Fi access point. I've gotten used to this over the past few years, and this method seems to work well for wire-free set up.
Once connected, I pulled up a local web address to clone my wireless network settings into the camera. A "scan" button made it pretty easy to detect and include my home Wi-Fi network. The camera then went into an installation routine for a couple of minutes, rebooted, and a satisfactory solid green light appeared on the front of the Wellcam.
I opened up our Alarm.com dealer account and added the camera through their Dealer Tools. It appears that I could have also added the camera as a subscriber, but my dealer would have still needed to enable the two-way audio features on the camera.
Once I enabled the camera in Dealer Tools, it showed up right away in my Alarm.com app with some new controls that I hadn't seen before, including a microphone icon in the app that allows me to drop in on the camera anytime. The audio is two-way and is supposed to be used for checking in on a loved one in a, "Mom, everything ok?" scenario.
There's also a pinch-to-zoom capability with something Alarm.com calls HD Enhance. This reminds me a little of Hollywood movies encouraging the belief that video can somehow be sharpened beyond its native resolution. It's an interesting gimmick, but thankfully the field of view is so wide, I don't necessarily see the need for the pan/zoom capability. A "record" button in the upper right of the video window makes it easy to capture a short video clip.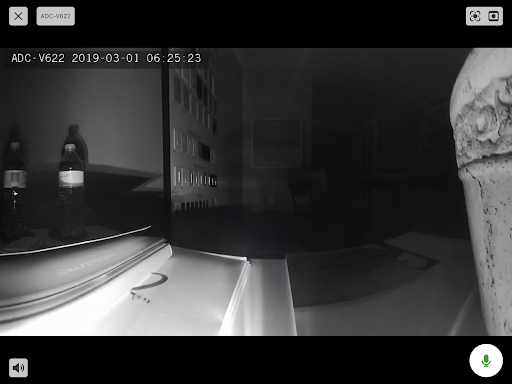 On the camera itself, there's a four-way directional pad on top with volume up/down, a microphone icon for outbound alerts, and a menu button. The microphone button can be configured in the Alarm.com app to generate many different types of notifications. Their serving suggestion is a simple alert that tells a loved one the button's been pushed and "to view live video, enter the app."
The advertising for the product led me to believe the button push alert would take me right to a video session, similar to the Skybell. While that would be nice, I also like the ability to trigger more than just a video session using the button. I could see the button being used for other canned notifications or even a lighting scene shortcut.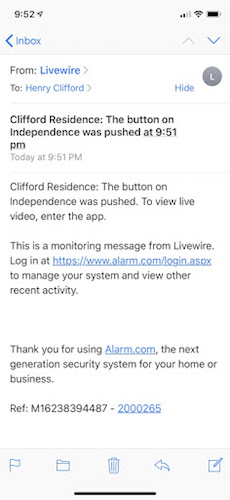 Alarm.com takes its alerts even further by allowing recording based on a number of scenarios, including motion detection during defined times of day or night and eventually will include intelligent object detection (i.e. knowing the difference between a person and an animal) thanks to Alarm.com's recently announced video analytics features.
As for the Bluetooth speaker functionality, I tried it out, and it didn't move my needle. I'm not sure why Alarm.com chose to include this capability in an independent living scenario. If the end user of the speaker is supposed to be someone aging in place, I could easily see this leading to service calls. The sound quality isn't worth the effort.
Final Thoughts
The Wellcam is the first piece of hardware introduced in a long time aimed at raising awareness around "Wellness," Alarm.com's activity monitoring platform. Wellness exists between life safety and home automation. The system uses all the sensors in the home (including the Wellcam) to establish a baseline of "normal" routines over the first few weeks of a new installation. After that, Wellness flags anything it considers abnormal and sends out alerts to loved ones.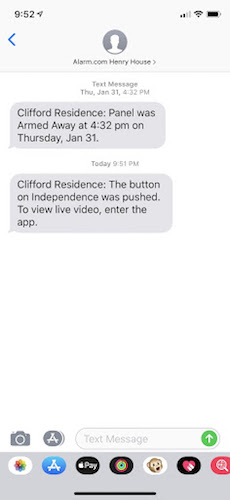 The original concept of Wellness centered around the belief that Personal Emergency Response System (PERS) pendants were ineffective because people often forgot to press the button after a fall. In addition, Wellness seeks to use sensors like bed pressure switches, motion detectors and door contacts as an alternative to invasive video surveillance.
The Wellcam appears to cede a little ground to the notion that some situations call for a camera. It's great to see Alarm.com continuing to innovate on this platform. Even though Wellness has been on the market for 5 years, it's still early days for independent living technology solutions.
I'll continue to test out the Wellcam, and I'm thinking in-home care companies and grown children of aging parents will be the first adopters. It's a great addition to our toolkit and we anticipate a slow and steady growth curve for this category.