As mentioned in my initial report on the new products introduced by Amazon on September 20, the briefing had such a long list of new items that they might be categorized as "so many products, so little space." For that reason, the report was split in two. The first part covered the new Echo products and the software behind them. Here, in Part Two of that report, you will see the details on new Wi-Fi connectivity, streaming devices, and cameras that link to them.
Connected devices without the means to get the signals to transmit, receiver and forward the data between sink devices will make them of no more use than a boat out of water: They have no way to get from place to place. With Wi-Fi as the dominant way to do that in the home, having products around that technology is key to building a complete home infrastructure, and Amazon's eero products, acquired in 2019, is their entry into the category area that helps keep the digital blood coursing through a home system's veins.
With the ever-increasing demand for broadband capacity to connect more devices in the home every day, along with the higher speeds provided by cable, fiber, and 5G ISPs, Wi-Fi systems need to keep up the pace. The latest way to accommodate data speed and more devices is Wi-Fi 7, also known as 802.11be. Under optimal conditions it can be more than four times faster than Wi-Fi 6E and is able to deliver double the bandwidth capability.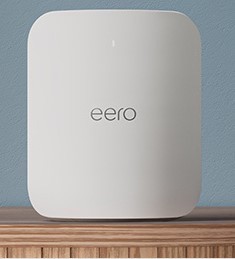 The standard has not yet been fully approved, but software updates will certainly make certain that any changes needed after certification is finalized will be fed to products already in the field. Wi-Fi 7 is certainly far enough along that a number of brands have stepped into the fray and even Charter, the parent company of Spectrum, has announced that they will offer Wi-Fi 7 modems. Now, Amazon's eero will also be joining the club. The new eero Max 7 is a tri-band mesh system that is said to cover up to 2,500 square feet with a single unit and up to 7,500 square feet with a three-pack system. Over 200 devices may be supported, double that of the current eero Pro 6E.
Wi-Fi 7 may not be for everyone right now, but if you feel the "need for speed" and have the incoming data rate and bandwidth from your broadband provider, as well as too many devices latching on the system at once, it may be something you will want. The new eero 7 Max will support Matter-enabled devices and act as both a Thread Border Router and a Zigbee smart home hub. Each unit will have two 10Gb and two 2.5Gb Gigabit Ethernet ports for devices that require a wired connection. Of course, there will be backwards compatibility with existing eero systems, so there should be the capability to mix and match or upgrade existing eero ecosystems.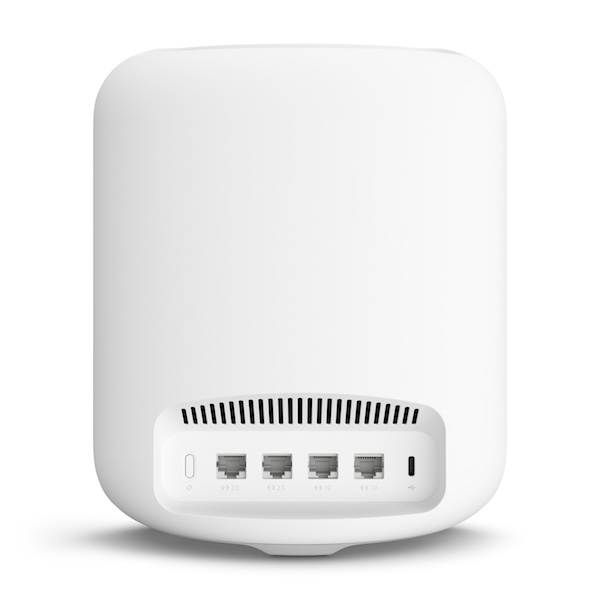 One thing to note about the eero 7 Max is that, at 8.7 inches in height, they will be considerably taller than current eero products, looking more tower-like than the just under 2-inch height of the flat design the current eero 6-series models.
Another thing that is higher will be the price. A single eero Max 7 will set you back $599.99 compared to the current $179.99 price of an eero Pro 6E. Will it be worth it? Again, that depends on your system needs in terms of number of devices, latency requirements, and speed demands. Also remember that to get full advantage you will need both matching input speed from your ISP and Wi-Fi 7 in the device being used. Any Wi-Fi 7 device will, alone, not deliver the higher performance.
It should be noted that according to Amazon this product has not yet been authorized for sale by the FCC. For that reason, availability is not yet posted other than "2023 release" or "soon." However, the eventual presence of a Wi-Fi 7 products from a market-leading brand is evidence that the technology is almost ready for prime time and is something to consider for future projects or system upgrades.
Now that you know how Amazon would like you to feed bandwidth to your home system, it is time to look at where they would like the signals to go to. Other than the Amazon Echo products discussed in Part 1 of this article, the next most likely destination and use for any Wi-Fi or wired broadband network will probably be a streaming device. In that category, Fire TV is the first with new models set for this fall. The two new Fire TV models and the software and UI behind them are certainly something to take notice of, particularly if Amazon and Prime Video are your go-to for streaming content.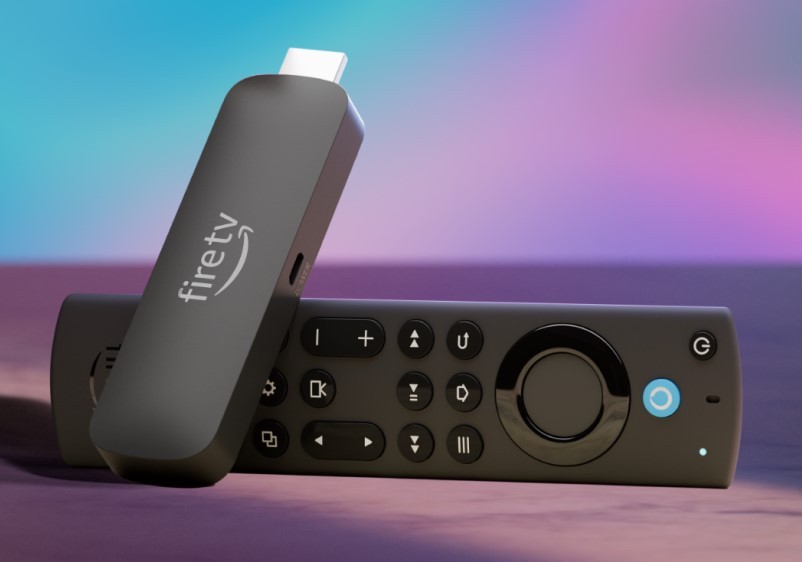 An overarching upgrade to the Fire TV user interface for compatible models will use generative AI to simplify and personalize content search when using voice commands. More detailed searches such as asking for recommendations to see "comedies for a rainy day that are free" or using search commands based on your mood, particular including specific actors or directors, is now available as expanded search criteria. On the visual content selection side of things, a new "Continue Watching" row in the carousel of program tiles will push recently watched content back up to the top. Both of these features will roll out later this year.
The more budget-conscious Fire TV Stick 4K has the features that one would expect at the mid-high range of streaming products. The processor is updated to 1.7Ghz quad-core, said to be 30% faster than previous models and memory is 2Gb, compared with lower priced Fire TV models. Wi-Fi 6 is another addition to the feature package. At $49.99 the price is in line, but it is worth noting that starting on September 26Roku will offer their competitive Roku Express 4K with their Voice Remote Pro as an Amazon exclusive for the same price. It's a toss-up, as the Roku is Wi-Fi 5 as opposed to the Fire TV 4K's Wi-Fi 6 but the Roku's Voice Pro remote is a bit more advanced with features such as a rechargeable battery.
However, for $10 more, the new Fire TV Stick 4K Max definitely raises the bar in a number of ways. The processor is further upgraded to a 2.0Ghz chip, and the storage is doubled to 16Gb. The 4K Max will also be the first streaming stick with Wi-Fi 6E, which will enable those with similarly equipped access point/routers to enjoy faster speeds, less interference, and lower latency.
The top-notch hardware specs aside, the Fire TV 4K Max introduces the Fire TV Ambient Experience, previously available only available on the Fire TV Omni QLED series TVs to an external streaming product. Activated from the Shortcuts menu or by a command to an Alexa product, the top-level idea is to present a versatile, customizable, always-on screen to replace a blank screen when you are not otherwise watching video content.
Examples of what the Ambient Experience will provide are calendar reminders, Sticky Notes for family members, audio streaming play, and control of smart devices. Also, part of the feature package is the ability to use your video display as an in-home art gallery with access to a collection that now numbers more than 2,000 free, high-quality images. Starting later this year, customers will be able to create their own artwork using just their voice with AI Art. Basically, you tell it what you would like to see, and it generates a unique, personalize display. Also coming later this year will be the ability to display personal images from Amazon Photos along with the option to transform the image into a popular art style such as watercolor painting or sepia tone.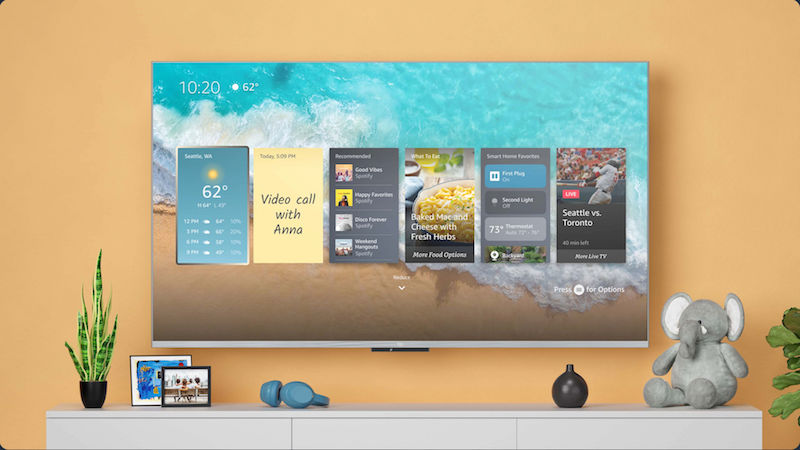 Finally, on the Fire TV side, also new to the line-up will be the Amazon Fire TV Soundbar. This is a 2.0 channel product expanding the sound field with support for Dolby Audio and DTS Virtual:X. Connectivity for the compact, 24" wide bar via Bluetooth for connection to phones or tablets or HDMI eARC for content received via a TV and the devices connected to it.
In the grand scheme of things this is a logical addition to the Fire TV line, but it is important to note that the bar itself is not a streaming device or equipped for Alexa commands. The Fire TV Soundbar is $119.99, but as in the case of the Fire TV Stick 4K, Roku again provides an interesting alternative for $10 more. At $129.99, Roku's Streambar is a bit smaller at 14 inches, with four 1.9" speakers in a 2.0 configuration. However, perhaps more importantly, it is not only a full Roku 4K streaming device, but it also works with Apple AirPlay, HomeKit, Google Home, and Amazon's own Alexa system. For those who want to go all in with the Amazon ecosystem, the Fire TV Soundbar may be an interesting choice, but the lack of internal audio streaming capability is an odd omission.
Lest this article drone so long that it requires yet a third chapter, it should be noted that while connectivity, smart devices, and streaming products are my main focus, there were yet more products announced last week. Included in those are a pair of Fire TV HD Kids tablets, both priced at $189.99, aimed at delivering content to pre-teens. The Fire HD Kids is aimed at 3- to 7-year-olds, while the Fire HD 10 Kids Pro is aimed at 6- to 12-year-olds and offers a bit more freedom with regards to apps and website browsing.
On the camera and security side, the Ring line will get a new Ring Stick Up Cam Pro, with 1080p HDR video, dual-band Wi-Fi, available in battery or plug-in powered models at $179.99. A bundle with a solar power panel will be $209.99 with availability for all versions in mid-October.
Finally, Blink, Ring's less expensive cousin, will expand its ecosystem with a new Blink Sync Module Pro. When available later this year after it receives FCC authorization at $49.99 it will expand the range for Outdoor 4 cameras introduced in August. Another accessory shipping in October will be the new Outdoor Battery Extension Pack at $29.99. It is claimed to allow Outdoor 4 series cameras to be powered for as long as four years. Last, but not least, the new Blink Outdoor 4 Floodlight camera priced at $159.98 with mid-October availability.
As consumers begin to think about holiday season gifts Amazon has certainly given streaming, smart speaker, and gadget lovers more new products to consider. With Apple and Amazon having now shown their cards, it will be interesting to see what Google offers up in two weeks.