Following their inaugural CEDIA Expo earlier this month, Just Video Walls has delivered a promised MicroLED design tool that will streamline the MicroLED quoting process to five minutes or less while ensuring that the right tech goes into each job.
This patent-pending design tool enables custom integrators to enter the MicroLED space by starting with the project parameters, not the product lines or individual specs. Users are never asked to select a cabinet or a technology type. Instead, the system presents the best range of possible options, based on a questionnaire derived from years of experience in installation and application.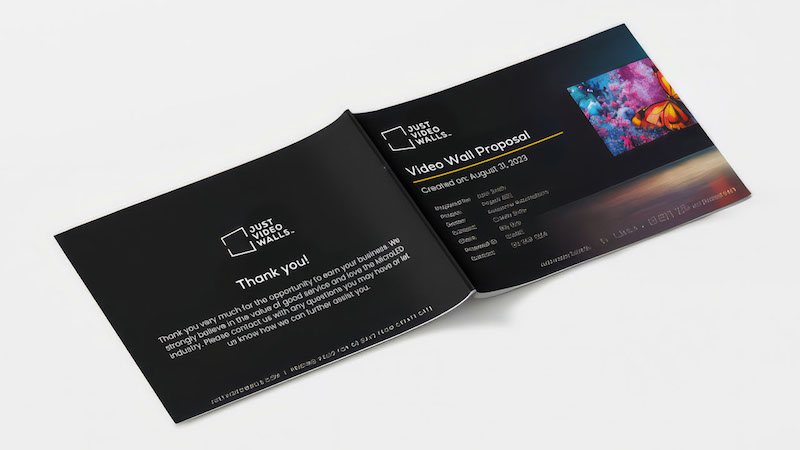 MicroLED is not constrained to a few diagonal sizes and a 16:9 aspect ratio. The limitless range of sizes and unlimited possibilities can intimidate new and veteran installers alike. Just Video Walls' approach is intended to solve these problems with a simplified process that can fit a space or design to a size and/or aspect ratio. The result, the company says, is a seamless presentation of the optimal options that includes the correct technology and cabinet type for the project — no math or calculations required.
"Our new MicroLED design tool simplifies the entire process, putting the power of precision at the integrator's fingertips," said Skyler Meek, VP of marketing at Just Video Walls. "No more complex cabinet selections or frustrating calculations; we've made it all easy, efficient, and accessible."
At the end of the process, the integrator is supplied with instantaneous pricing, including "good, better, and best" options, to help scale the project up or down based on the customer's needs and budget. Dealers can immediately download a professional proposal in PDF format with all the project's parameters and wall details — even processor specs — that they can then use to help close the deal and, later, keep track of all aspects of the job.
"We simply built the tool that we needed when we were integrating MicroLED, because there are so many options, and no one was there to help us," said Just Video Walls CEO Ryan Lampel. "That's been our philosophy at every turn in this company. We are the kind of partner that integrators need, helping bring reliability and eliminating disruption, but at the same time, enabling success in this highly profitable category."
In addition to speeding up and simplifying the quoting process, the tool also stores every project that you create and tracks orders as they move through production, QC, and shipping. This enables dealers to get an instantaneous view of the status of a project, and lets them, in turn, provide their customers with the same transparency.
Just Video Walls is currently accepting applications for the beta program for their project design tool. This program is scheduled to last through the end of October 2023, after which the tool will be made available to authorized dealers.
To apply for beta access and to get more information about the tool, visit Just Video Walls at https://justvideowalls.com.