The bullseyes, missteps, and lessons for integrators from CEDIA Expo, our industry's most important annual convention.
I'm obsessed with the customer journey – and if you're an integrator, you should be too.
The customer journey is the treacherous road that a customer travels from awareness to sale. For integrators, this process starts when a potential new customer realizes that professional smart home services exist, and continues through sales, purchase, and support. A compelling customer journey is the lifeblood of business — it's the difference between sustained growth and slow death.
I came to CEDIA Expo 2023 to preach this gospel. As part of the CEDIA Conference program, I taught a class on how integrators can use AI and XR to elevate their customer journey. Remember, a customer journey is not a "one-and-done" deal. It must be constantly maintained and updated to meet the needs of an evolving customer base. After a couple of years away from CEDIA during the dark years of COVID, I was itching to see how the show's journeys had evolved — or hadn't.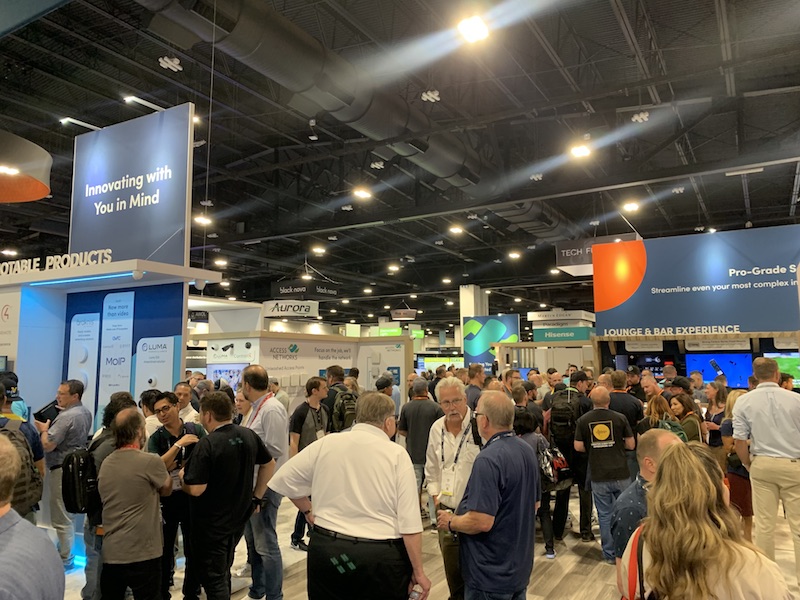 Thousands of customer journeys play out simultaneously across every inch of a show floor: manufacturers unveiling their shiny toys, distributors wooing integrators, and integrators laying groundwork with their top clients for future projects. There were some truly transportive experiences on display at CEDIA Expo 2023, as well as some moments that seemed like the all-too-familiar, worn out vacation.
Emerging Segments Shine at CEDIA Expo 2023
When it comes to initiating the customer journey, initial awareness is key. You want to spark an insatiable curiosity, lure them in, and make them thirsty for answers that only you can satisfy. Across CEDIA Expo, emerging categories like lighting, shading, and micro-LED did an excellent job catching the eye with visually impactful booths. In terms of starting the customer journey on the right foot, however, micro-LED supplier Just Video Walls really stood out.
In their CEDIA Expo debut, Just Video Walls designed an experience that begged all the right questions. They had a relatively modest booth footprint, absolutely dominated by a large-scale video wall seamlessly constructed from micro-LED tiles. The proportions worked in their favor, silently implying that they can offer screens of any scale or dimension. Additionally, the booth's open design highlighted their technology's tolerance for sub-optimal lighting conditions.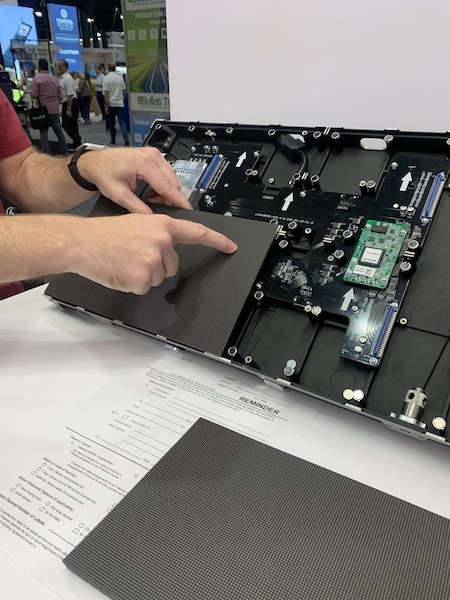 Walking by Just Video Walls, you had to wonder: "How big can they go? Where could I put a screen like that? Where couldn't I?" And best of all, just one look stirred the most important thought of all: "I want one." The Just Video Walls team was right there welcoming these and other questions, and each response would draw you a little further down the path toward a sale.
Show, Don't Tell
When there's already strong interest — and competition — in your category, it's essential that you focus on educating and persuading users about why they should choose you for their ultimate purchase. What makes you special, separates you from the herd, and clearly offers a unique value proposition not found from your competitors? Everyone trumpets that they're the best, provides superior service, or builds unparalleled experiences. Customers do not believe what you say. Instead, they believe what they — and their friends — experience.
Trade shows have always been an essential touchpoint for showing your most valuable customers what your products can do. At CEDIA Expo 2023, mainstay exhibitors used product demos to solidify their relationships with dealers and differentiate their products. The most successful among them demonstrated the value of investing in immersive experiences as part of the customer journey.
Trinnov Audio's demo theater was the marquee example of this tactic at CEDIA Expo. They worked with Oficina Acoustica to build a space on the show floor that was tuned to the incredibly demanding new RP22 Immersive Audio Design Recommended Practice from CEDIA. With only a 2dB difference between each of the 18 listening positions, this demo blew people away — and they told others about it. Throughout the show, lines for this demo wrapped the booth.
Trinnov's booth proved the power of the demo but, admittedly, this is a difficult tactic for many integrators to emulate. Not everyone can build a physical showroom, and not every customer is interested in travelling to one. However, virtual showrooms are now a very accessible option. You can use a virtual home walkthrough, customized to your clients' environment and aesthetics, to demonstrate the range of solutions you offer and help them understand the ease and luxury you provide. A virtual experience can be a supplement to a showroom, or even an alternative, helping you adapt your sales tactics to a customer base that increasingly prefers to research major purchases primarily from home.
Journeys Need Pit Stops
Alongside these highly compelling elements of the CEDIA Expo customer journey were the inevitable (and too familiar) potholes. Show manager Emerald Expositions continued to neglect certain aspects of the attendee experience. For instance, food options were few and at a sub-truck-stop level. There was practically nowhere to sit. And Wi-Fi? It was a data no-man's land. The objective of the Expo should be to provide a top-notch journey for attendees, so all their fundamental needs are met, and they are energized, primed, and ready to explore all the show has to offer. These cost-cutting measures ultimately hurt exhibitors because they make attendees more agitated and less receptive. People learn better when they're fed, comfortable, and at ease.
Even these missteps can be turned into opportunities. Exhibitors who provide what the show manager won't — like a freakin' CHAIR — draw more potential customers than an oasis in the desert. Just make sure whatever amenities you provide are connected to your customer journey. Everyone who visits out of desperation should want to stay out of intrigue.
Craft Your Own Journey
Tradeshows are a destination, but the customer journey is year-round. You don't need to wait for an in-person event. You can incorporate these tactics into your own customer outreach right now across your website, email marketing, social media, customer presentations, and more.
Consider if you're getting your potential customers to ask the right questions. Make sure you're showing them — not just telling them — what makes you unique. And along the way, make sure you're addressing their basic human needs in a way that reinforces your brand. Sometimes it's the little things that make all the difference. Obsessively improve and maintain your customer journey, and you will cultivate loyalists who will buy from you again and again.