YoLink can serve as a smart home range extender on larger properties, with a range of a quarter mile between devices and the hub
A limitation of most of today's most popular wireless smart home technologies is distance.  Most Wi-Fi operates at 2.4GHz and 5 GHz. Devices connecting to a Wi-Fi network at 2.4GHz have a practical range of 150 feet. On the other hand, devices connecting to a Wi-Fi network at 5GHz have a practical range of only 50 feet.
Z-Wave devices can reliably communicate at distances up to 100 meters (approximately 330 feet). Zigbee devices operate in a mesh where each Zigbee device can act as a transmitter, receiver, and repeater of communications messages. So, while Zigbee operates in the 2.4GHz band, giving an individual device a similar range as a 2.4GHz Wi-Fi device, the actual range of the mesh is 150 feet past the outermost devices that are participating in the mesh.
If you want to add smart home technology outside your home, these distance limitations can impose significant challenges.
Introducing YoLink
YoLink is a smart home product line offered by YoSmart, an Irvine, CA, company founded in 2014 by John Xu with the goal of "making home life simple for everyone." The products utilize LoRa communications technology which offers long-range communications of up to a quarter mile.
More from This Author: Maximize Your TV Watching Options While Saving Money
LoRa communicates at 915MHz in the United States. Signals at that frequency are capable of penetrating glass, metal, and concrete, which is a significant differentiator compared with Wi-Fi and Zigbee that communicate at 2.4GHz and have very limited ability to penetrate walls. Also, LoRa requires very little power, giving battery-powered devices an expected battery life of between two and 10 years.
The first YoLink products were released in 2019. Today YoSmart offers more than 30 different products and a wide selection of starter kits that group different products together at additional savings for consumers.
Hands on with YoLink
I was supplied with a small selection of YoLink products to test for this article. Learning how to use the YoLink system is reasonably easy with the possible exception of learning how to work with YoLink's "alarm strategies".
After downloading the YoLink app from your smart phone's app store and creating an account, the app will walk you through the key functions that it offers. It does this by highlighting different on-screen icons/menus and explaining the function of each. There are also more than a dozen different videos in the "YoLink Academy" section of the YoLink website that provide instructional information on a variety of products and subjects.
The app is well organized and offers a good deal of functionality. Across the bottom of the screen, you will see a menu bar with four selections:
Favorite – View scenes and devices that you have tagged as a favorite
Rooms – View your devices and optionally organize them by the room location
Smart – Create/view/edit scenes and automation
Explore – Purchase additional YoLink products
In the upper right-hand corner of the screen are three additional buttons
A refresh icon to update the information shown on the screen
A scan icon for scanning QR codes on YoLink devices when you add them to your system (more on this below)
A message icon that takes you to the message center where you can view alerts, info messages, and notices generated by the YoLink system
Finally, in the upper left corner of the screen, there is a three horizontal line hamburger menu icon. This opens a menu where you can change information related to your home, adjust system settings including alarm strategies (more on alarm strategies later), view help or contact support, provide feedback, and more.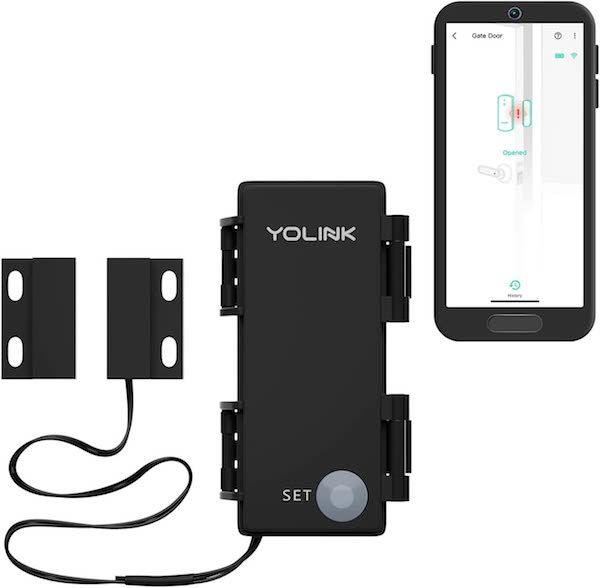 In spite of all the functionality offered in the app, it is reasonably easy to work with YoLink products. Your first step would be to add a YoLink hub to your system. An especially welcome feature is that the YoLink hub can be connected to your home network either over Wi-Fi or with an Ethernet cable connected to your router. In areas where Wi-Fi is congested, a wired Ethernet connection can provide an added degree of resilience to the system. To add the hub to your system you would simply:
Press the scan icon in the upper right-hand corner of the app
Scan the QR code on the back of the device using your smart phone's camera
Once the QR code is scanned, a screen is displayed where you:

Provide a name for the device
If desired, select a room where the device is located
Choose whether the device will show on the favorite screen
Press the bind button to include the device in your YoLink system
This process is the same for any YoLink product with the exception that if the product is battery powered, you will also need to press a small physical button on the device labeled "Set."
The heart of the system is automations, alarm strategies, and scenes.
Automations – An automation is "if this then that" logic to perform actions based on a device changing state (such as a door sensor sensing that a door was opened/closed) or based on a schedule.
Alarm Strategies – An alarm strategy is a set of instructions on how the system will respond in the event a device changes from a normal to abnormal, or alert, state (such as a leak sensor detecting water). Alarm Strategies allow you to define whether, and how, to be notified when different devices go into an alert state. Alarm strategies can trigger in app notifications, emails, SMS notifications, a siren to sound, audible or voice alerts to be played on a YoLink Speaker Hub, and devices to be turned on/off. It is important to know that YoLink provides an unlimited number of in app notifications and email notifications. However, there is a limit of 20 free SMS (text message) notifications per month.
There are two key differences between alarm strategies and automations. First, automations can be triggered by a sensor's change in state; for example, a motion detector detecting that someone is in a room, or when the person leaves and the room becomes empty. An alarm strategy can only be trigged by a sensor going into an alert state; such as when a motion detector detects motion. Second, an automation can only be triggered by a single device while alarm strategies can be triggered by any number of devices. This aspect of an alarm strategy is useful to define common behavior when, for example, any leak detector in a home detects water.
Scenes – can be triggered as part of an alarm strategy. Scenes can trigger any number of devices, include a delay between actions, enable/disable alarm actions, and send a notification based on the settings in the associated alarm strategy. Scenes can be organized into groups. I found that the YoLink academy video "Automation 101: Day and Night Scenes" gave an excellent overview of how alarm strategies work and how scenes can be used to enable different alarm strategies under different circumstances.
Different YoLink devices have additional functionality built into them. For example, a door sensor can be configured to send a notification after a specified period of time if a door is left open.
All these features allow a home owner to leverage YoLink products to create a reasonably full featured smart home (within the scope of the YoLink products offered by YoSmart – more on this below); including alarm system functionality. However, it is very important to understand that while I found YoLink to be very robust and stable; a YoLink system hasn't gone through the vigorous testing and certifications that an alarm system has to go through.
In addition, a YoLink hub is a conduit between YoLink devices in/around a home and the YoSmart cloud where the logic defined in automations and alarm strategies is executed. Therefore, an internet outage can disrupt the operation of a YoLink equipped smart home. So, homeowners shouldn't include functionality that family members lives could depend on. For example, you wouldn't want to use YoLink temperature sensors and automations to try and sense a fire and then trigger a YoLink siren to notify family members.
YoLink does have a workaround that somewhat minimizes the system's dependency on YoSmart's cloud service for executing automations and alarm strategies. There is the ability to directly link devices together. Direct device-to-device pairing is a feature that is unique to YoLink. It works without internet and, because YoLink devices are battery powered, even during a power failure. One example is to pair a YoLink leak detector with a YoLink water valve so when the leak detector senses water it sends a signal directly to the water valve to shut off the flow of water.
The range of LoRa communications is the key differentiator of the YoLink system. YoLink claims a range of a quarter mile for communications between YoLink devices and the YoLink hub. I tested this and validated that range. I also placed a YoLink contact sensor inside a metal mailbox outside my house. The sensor had no problem communicating with the YoLink hub from inside this metal enclosure.
In addition, YoLink allows you to add multiple hubs inside a home so YoLink sensors, switches, etc. will connect to whichever hub is closest and offers the best signal. In large homes this can further extend the range of the YoLink system. And, if the property includes an outbuilding with Ethernet or Wi-Fi, a hub can be added to that location to further expand on the range of YoLink's LoRa communications.
Finally, I thought the pricing of YoLink devices was very reasonable. A YoLink hub is $30, a door/window sensor is $20, and a basic smart plug is $25. Further savings on these devices can be obtained by purchasing them in starter kits that bundle multiple items together.
YoLink Integration
The YoLink Alexa skill provides integration between YoLink and Alexa smart speakers in a home. With this integration you can:
Control YoLink devices with voice commands
Query the status of a YoLink device with a voice command
Control YoLink devices in an Alexa routine
Trigger YoLink scenes in an Alexa routine
Trigger Alexa routines based on the change in state of a YoLink sensor including having Alexa speakers broadcast messages similar to a YoLink Speaker Hub
YoLink provides a very full featured IFTTT service for integrating YoLink devices with a wide variety of smart home ecosystems through the IFTTT cloud service platform. Using IFTTT, you can:
Trigger IFTTT applets based on a change in state of YoLink sensors
Trigger IFTTT applets based on button presses on a YoLink fob
Control YoLink devices in the "that" portion of an IFTTT applet
YoLink has also been integrated with the Home Assistant smart home platform.
YoLink has an extensive cloud API (application programming interface), allowing developers to build integration between smart home platforms and YoLink. Unfortunately, this API utilizes callbacks which, when used with smart home platforms where the smart home processor/hub sits inside the homeowner's network, would require port forwards on the homeowner's router.
Port forwards have become a major security problem in recent years and an invitation for hackers to attack the homeowner's network. Fortunately, YoLink plans on developing a new hub that supports a local API that solves this problem in 2023. When that is released, I'm hoping to be able to write a Crestron-YoLink driver so that YoLink sensors can trigger actions in a Crestron system and so that a Crestron system can control YoLink devices.
How Does YoLink Fit in a Smart Home?
YoLink's product line includes thermostats (conventional and heat pump), temperature and humidity sensors, leak sensors, water level sensors, water shutoff valves, motion sensors, door/window sensors, an outdoor gate sensor, a vibration/shock/glass break sensor, a smart relay, four button fobs, and a five-device remote control, sirens, a power fail sensor, a wall switch, a wall dimmer, smart plugs (with/without power monitoring), power strips, a wall outlet, a garage door controller, and a garage door sensor.
While these products offer a wide range of smart home functionality, there are some important products missing from the lineup. Some examples are door locks, cameras, and video doorbells, to name a few. Because the YoLink hub doesn't include the ability to incorporate Zigbee, Z-Wave, or even Wi-Fi/Ethernet products, it can be a challenge to create a full featured, integrated smart home with YoLink at this time.
That raises the question of how does YoLink fit into a smart home? As I stated earlier, what really differentiates YoLink from other smart home platforms is the range of LoRa communications. This makes it ideal for:
Lighting control in an outbuilding or shed
Outdoor Security can be improved with outdoor motion detectors around a home, motion detectors in an outbuilding or shed, door/window sensors in an outbuilding or shed, monitoring the opening/closing of a gate with a YoLink outdoor contact sensor
You can have the added convenience of knowing when the mail arrives by installing a YoLink outdoor contact sensor in your mailbox that is triggered when the door to your mailbox is opened
All of the above can be implemented using YoLink and then integrated with another smart home platform through IFTTT or Alexa. While this dependence on the cloud isn't ideal, in 2023 when YoLink releases their new hub with a local API, I expect that people will quickly develop drivers to integrate that hub into other locally hosted smart home platforms including Hubitat, Home Assistant, and various professional smart home platforms. This will really make YoLink and ideal solution for expanding a smart home outside the boundaries of the four walls of a home.
YoLink for Commercial Building Managers
YoSmart doesn't just view YoLink as a smart solution for homes but as a solution for apartment buildings, condominiums, multiple short-term rental properties and almost any other type of commercial building. YoSmart offers commercial building managers the Raedius Web Console; a cloud-based web browser dashboard for the management of YoLink as well as third-party smart devices. With Raedius, a building manager can manage and control smart systems throughout a commercial building, and even across multiple buildings, from a single web browser-based user interface.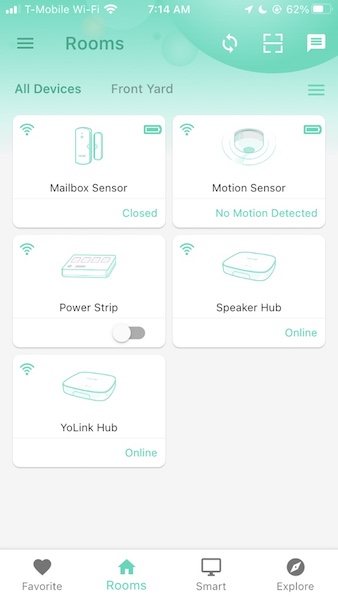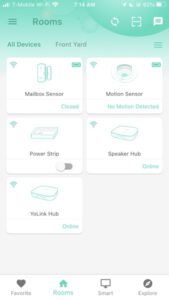 The Raedius Web Console provides a building manager with the same easy installation of YoLink products that I described above for residential customers, the ability to integrate with non-YoLink devices via API or through contact closure inputs/outputs, automations that perform device actions and notifications, the ability to view real time or historical data and device status, and the ability to create notifications for a diverse group of recipients (security guards, property owners, residents, etc.).
Suggestions for Improvement
While I found YoLink to be a reliable and robust product, there are a few ways I think it could be improved.
The most significant area for improvement is already recognized by YoLink: the need for a new hub that provides the ability to locally execute automations/alarm strategies and provides a local API for integration with other smart home platforms. YoSmart plans on releasing a new hub in 2023 that includes a local control API.
YoLink Academy offers some very instructive videos. However, it can still be a challenge to fully understand the paradigm of alarm strategies and how they can be leveraged with automations to create a smart home. YoLink should create a "demo home" system that is configured with products, alarm strategies, and automations. A YoLink academy video would then walk through the configuration of the demo home in the YoLink app to explain how alarm strategies and automations are setup in this situation. This would then serve as a blueprint for how a homeowner would configure the YoLink system in their own home.
Finally, when you first start using YoLink it is pretty much a blank slate and the homeowner will find it necessary to build most of the alarm strategies, automations, and scenes from scratch. This may be very intimidating for some people. The company needs to build more "wizard" functionality into the app that will get people successfully started working with the products.
Once they have learned the ins and outs of YoLink and are more comfortable with the YoLink paradigm, they can start modifying some of the functionality created by the wizards and customizing the system to meet their unique needs. For example, when you add a door sensor the wizard could ask the homeowner what kind of alarm functionality, they would like that door to have and whether they would like to be notified if the door was left open. The wizard could then create the necessary functionality in the app for that sensor. There should also be a setting to disable the wizards for advanced users.
Summary and Conclusions
The YoLink system is a fairly full featured smart home platform that is differentiated from the competition by its use of LoRa for wireless communications that offers a quarter mile of range between a smart home device and a hub, a long battery life of between two and 10 years, Direct Device to Device pairings allows actions to take place without internet or power, and the ability to be used in large commercial settings with the Raedius Web Console.
Setup of devices is very easy but the programming of automations, scenes, and alarm strategies is pretty much a blank slate. The "YoLink Academy" section of the website does offer a good number of videos to help people through the learning curve. However, some people may be intimidated having to start the configuration of the system from scratch.
There are a couple of downsides to a smart home based on YoLink. While YoLink does offer a wide range of products, there are some key product categories that are missing. The system offers integration with Alexa, Google Assistant, and IFTTT. However, this doesn't provide a good way of integrating products including cameras, video doorbells, ceiling fans, etc. without having to juggle between multiple different apps on a smart phone.
Also, the logic of a YoLink based smart home is executed in the cloud. If a home's internet service is down, then the automations and alarm strategies that run the smart home won't function.
That being said, when YoLink releases their new hub that supports local API (planned for 2023), the system will be a very valuable add-on for professional smart home systems where the long range of the sensors and other devices can be very valuable in solving unique problems in homes with large properties. Or, even in smaller homes where LoRa's ability to penetrate metal, concrete, and glass sets it apart from other smart home communications standards.