New technology is emerging in the home networking market, driven by the increasing demand for faster speeds and greater performance. Parks Associates research report, Home Networking Smart Product Market Assessment, reveals that in Q1 2022, 52% of consumers acquired their routers from their ISP, now exceeding retail-acquired devices.
Internet service providers ramped up their efforts to deliver new CPE to their customers, looking to capitalize on renewed demand for high-speed, reliable, and stable internet services and Wi-Fi. Among consumers who purchased their routers at retail, adoption is consolidating among the top brands. Additionally, the research firm reports that consumers are looking for devices that deliver key features and functionality and increasingly see ISPs as a preferred channel.
In the past few years, strain on home networks and usage of Wi-Fi in home increased considerably, triggering demand for new networking equipment and reliable Wi-Fi solutions. Many internet service providers are deploying new routers, gateways, and mesh networking equipment to better meet the needs of their subscribers. Further, OEMs have moved to meet customer demand, but lead times are still long due to supply chain constraints and record growth — ISPs added 9.3 million new households across 2020 and 2021 according to the research firm.
Security is a Growing Concern
Parks Associates' research shows that three in four internet households are concerned about their personal data security, with more than half saying they are very concerned. While consumers are very concerned about the security of their data, almost two-thirds of consumers feel that it is impossible to keep data completely secure.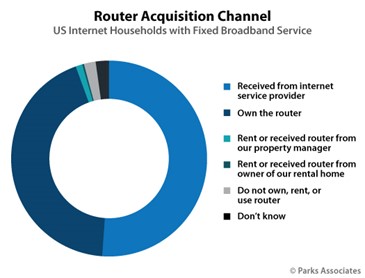 Security solutions at the level of hardware, network, or cloud platforms are vitally important to the success of IoT providers throughout the ecosystem. Data security or privacy issues are one of the top three purchase inhibitors of smart home devices. The research firm reports that nearly half of consumers do not take any action to protect themselves from unauthorized access to their connected devices. Most consumers lack understanding and awareness of data security solutions or have found solutions inadequate or inconvenient.
Moreover, requiring the installation of another app/software becomes a barrier. The addition of more apps and connected devices creates many avenues for data to leak out of a household, often just by accident or through an unpatched error. As the smart home grows into a more integrated and complicated smart ecosystem, internet and mobile service providers and device manufacturers play critical roles in keeping consumers safe and protecting their privacy as a default.
They must be open to third-party testing, transparent about security issues, vigilant about protecting their users' data, and willing to adapt with a constantly changing and integrated connected landscape. Vulnerability disclosure and management are key to resolving faults that impact the consumer experience and threaten security on an industry and even a national level.
For more information on the connected home, download for Parks Associates' webinar presentation Strategies to Protect and Secure the Always-Connected Consumer, in collaboration with Bitdfefender.