Apple TV 4K newbies will benefit from a significant price drop and improved performance.
Apple has had three major events so far in 2022, including two product-centric announcements and the annual WWDC, which is their developers' conference. As an observer of the landscape for streaming services and the devices that enable viewers to watch them, after each of these events my question has been "Where is a new Apple TV?" To be clear, while iPhones and iPads, as well as the various OS versions are typically on a yearly replacement cycle, Apple TV has not been. After all, it was three and one-half years between the first Apple TV 4K and the second-generation model brought out in April 2021.
Thus, it was both a surprise and not a surprise that a press release from Apple popped up in my inbox on Tuesday morning announcing the latest, third-generation version of the high-end streamer. For whatever reason, these Apple TV 4K models were announced without the usual fanfare of Apple's all-out launch events. This is an interesting product, as it adds and improves some of the current features while, at the same time, deleting and reducing others. It must, however, also be said that Apple also unveiled new iPad and iPad Pro models on October 18 without the usual press conference or fanfare. However, I'll leave those to others, as streamer devices are the main focus here.
Apple TV 4K Model Improvements
Both of the two new Apple TV 4K models have lower pricing, with the 64GB model coming out at an MSRP of $129, $50 less than the current 32GB entry model. The step-up version with 128GB is also $50 less than the second-generation model with 64GB.
Related – WWDC 2022: Apple's Surprises and Non-Surprises for Developers
Compared to the current generation, there are some additional features in the new Apple TV 4K models that go along with the obvious memory increase. From a performance standpoint, the biggest one is the upgrade from Apple's A12 chip to the latest A15 Bionic processor used in some of the latest iPhones. Along with a 50% increase in processor speed to 3.32 GHz, there are now five cores for graphics processing, delivering 30% improvement, and a 16-core, rather than 8-core Neural Engine. Without having seen the products, which are available now for pre-order and available November 4, this should all boil down to faster load time and navigation, improved animation within the UI, and other improvements, particularly when it comes to gaming with Apple Arcade.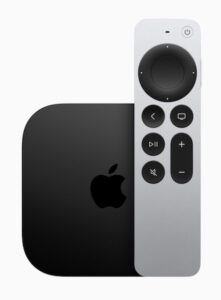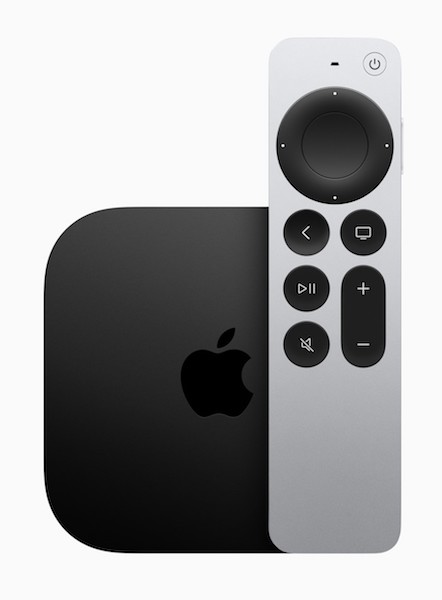 Other additions to the new Apple TV models include HDR-10+, which complements the HDR-10, HLG, and Dolby Vision in the current model. Another change is the use of a USB-C connector to charge the Siri remote, which is also available at $59 for use with all older models that came with the thinner "black" remote.
One other key new feature for those with or installing more sophisticated home automation systems is the addition of Thread networking support, in addition to Matter and, of course HomeKit. Note, however, that Thread support is only available on the more expensive, 128Gb model.
To some extent, the new AppleTV 4K models are evolutionary products. Given that and pricing that is above almost every other connected TV streamer with the exception of Nvidia's Shield, it is appropriate to mention the rest of the feature set that remains unchanged. That includes HDMI 2.1, Bluetooth 5.0, Wi-Fi 6, a built-in (rather than external) power supply and support for Dolby Atmos. Also carried over is Gigabit Ethernet, but only on the 128GB model.
What's 'Missing' from the Newest Apple TV 4K Models
The removal of the wired connection from the lower priced Apple TV 4K model leads us to the things that were dropped or reduced. In this case there are some good and bad changes.
The lower-priced unit has the same basic appearance and form factor, but it is slightly smaller in all dimensions. Also reduced are some environmental and sustainability factors. The unit uses 30% less power than the previous generation due to efficiency gains of the A15 Bionic. That also allowed Apple to eliminate the internal fan. Other positive ecological changes include increased use of recycled gold and tin as used on the circuit boards, 100% recycled aluminum in the remote control, and the elimination of outer plastic wrap for the package that is 90% fiber based.
One other deletion may be considered both a positive and negative. With the change from Lightning to USB-C for the Apple TV 4K remote's charging port you'll have "BYOC," or Bring Your Own Cable, as one is not included with the product. One presumes that this is in recognition of the mandatory use of USB-C connectors in the EU by the end of 2024 for phones, tablets, and cameras. However, that follows the deletion of HDMI and Ethernet cables previously. Yes, some may have to buy a USB-C cable, or Apple will gladly sell you one for $19. However, who doesn't already have extra cables cluttering up a drawer? Not having to contribute to electronic waste by leaving out something that you already have is the whole reason behind the EU law. It makes sense to me, particularly given the $50 price reduction for both models.
Where Does This Leave Us?
With a significant price drop while at the same time offering improved performance, newbies to the Apple TV 4K world will certainly benefit. If you already have an Apple TV 4K and want to pass it down to a different room in the house, this gives you a jump start to get a new one. If you are satisfied with an Apple TV 4K you already have, the decision to drop some more money falls into the "It's up to you" category.
This was an interesting and long-awaited product announcement on many fronts. Yes, the prices are lower, but not to the extend some who would have liked to see a smaller Apple TV "dongle" along the lines of what Roku, Fire TV, Google, Tivo's Stream 4K, and many others offer. On the other hand, I have one personal benefit: I won't have to waste space in Apple device reporting for another year or two, wondering "When will we see a new Apple TV 4K?"