A recent visit to Las Vegas for this year's International Builder Show (IBS 2019) brought some unexpected surprises in addition to the cold weather and late season snowfall. Builders were introduced to many of the types of items you'd expect to see at a show like this, such as the latest in building materials, cabinets, flooring, etc., but there was also some great new technology from companies you may not have expected who were making their product offerings smarter.
Smart Elevators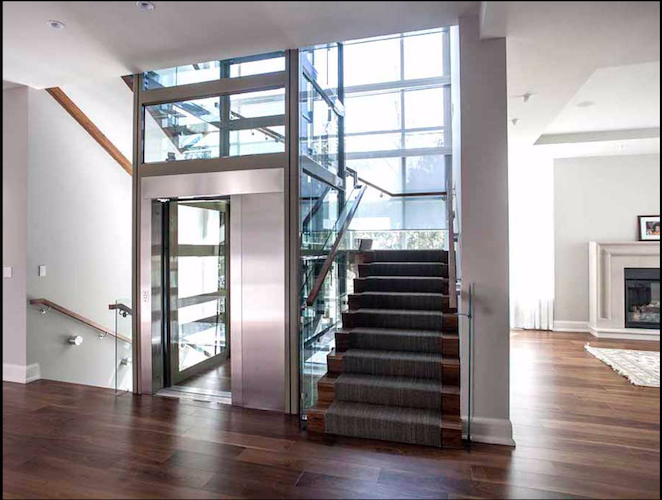 While home elevators might seem like a niche market, there were several elevator manufacturers in attendance. One that stood out was Garaventa Lift out of Vancouver, British Columbia. While their products looked great with all types of custom finishes and options, after inquiring further, company representatives mentioned that an app was available to allow for full control and troubleshooting, including summoning the elevator to a specific floor, knowing what floor the car is on, and knowing if the safety gate is open. They are currently looking at working with third-party control manufacturers and hope to have the ability for this information to be shared with a control system by the end of the year, allowing the elevator to fully integrate with the rest of a home. For more information visit www.garaventalift.com .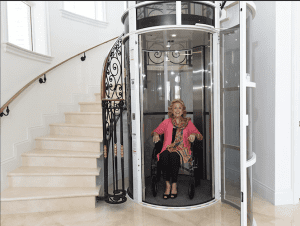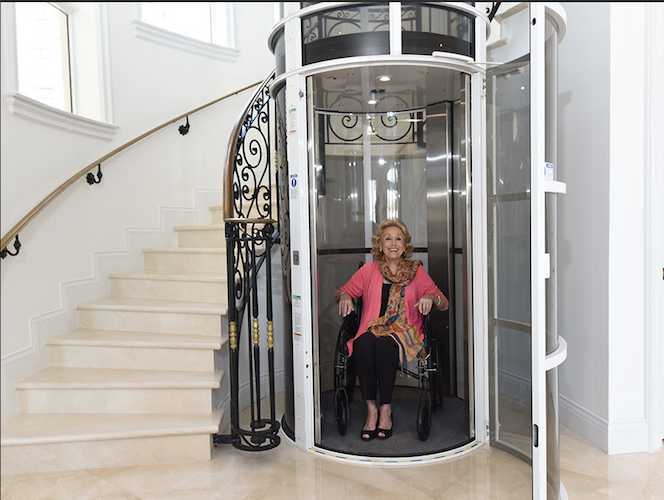 Although Pneumatic Vacuum Elevators (PVE) doesn't boast any smart home technology in its elevators, the company has taken a "smart approach" to its designs by making the only line of pneumatic vacuum elevators in the world. PVE, which was founded in 2002 in Miami, Florida, uses air instead of big motors to move people between levels in the home. Their largest model, the PVE52, is wheelchair-accessible and can fit up to three people or up to 525 lbs of weight. This design has expanded the options for where in the home an elevator can be installed while reducing space, installation cost, and being more environmentally friendly. For more information visit www.vacuumelevators.com.
Smart Kitchen and Bath
Kohler continues to incorporate technology into its products, creating a unique eco-system for the smart home. The Kohler Konnect concept rolled out last year and integrates control for several bathroom items, such as their Verdera Voice Lighted Mirrors, PureWarmth toilet seats, Veil lighted devices and accessories, and their DTV+ Shower System. It also integrates with their Sensate kitchen faucets, as well. The Kohler Konnect system is brand agnostic as it pertains to voice assistance – the app syncs with Apple HomeKit, Amazon Alexa, and Google Assistant.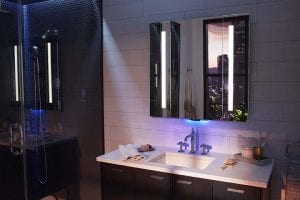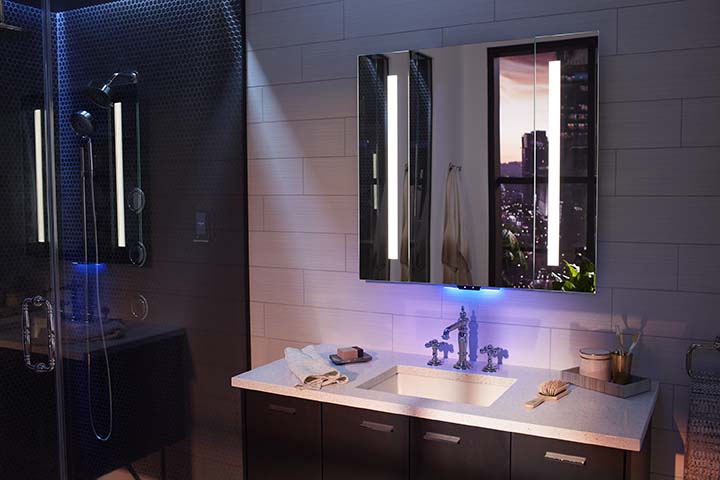 Kohler's Verdera Voice Lighted Mirror is designed to be the centerpiece of the Kohler Konnect portfolio of smart products. With built in Amazon Alexa shipping now, and Google coming in Q4, this will work as a standalone product or integrates with the Kohler Konnect app and allows you to adjust the lighting, listen to music, check out weather information, or even set up personalized scenes, such as "good morning routine" or "make up mode." There will be 24-, 34-, and 40-inch models available, ranging from $1,249 to $1,624.
The Kohler PureWarmth toilet seat is a heated and LED-enabled toilet seat that offers an easy and affordable bathroom upgrade. PureWarmth includes three adjustable warmth settings, a variety of nightlight color options, and varied nightlight brightness levels, which all integrates with the Kohler Konnect app.
Kohler Veil lighted bathroom collection features integrated lighting that is adjustable for task, guide, and ambiance that works off of circadian rhythms to more naturally enhance your wellbeing. There is a freestanding bath, lighted mirror, vanity top with sink, and lighted intelligent toilet. The user can control the color temperature and the brightness as well. You can control these products with the Kohler Konnect app along with an optional motion sensing kit, remote control, voice control when paired with a voice assistant, and the mirror also has direct control integrated into the glass. This is a great solution to help you start your day with a more comfortable and natural environment, compared to the bright lights that typically greet you first thing in the morning. These products should be available by mid-year.
If you are looking for the ultimate integrated shower, starting at $3,000 you can get the DTV+ Shower System with Kohler Konnect, which allows you to personalize and automate a unique showering experience. Through the Kohler Konnect app, you can create and manage presets for sound, water, steam, and lighting. You can also use your voice to access those presets or the wall-mounted interface which provides added functionality such as water temperature and shower duration.
The Kohler Sensate kitchen sink faucet has been around for a few years now, but now it integrates with the Kohler Konnect app. You can use simple commands to turn the water on and off, dispense measured amounts of water, and it even monitor and track your water usage. These faucets will retail between $660 and $830 and should be available by April of 2019.
Third-party control systems integration could come as early as next year, according to Kohler.
Smart Home Water Protection
Did you know that 40 percent of homeowners will suffer from water damage and that you are six times more likely to have a water damage incident than a house fire? It makes sense that there has been an emerging trend over the past year in smart water protection products and several of them were on display. Stream Labs, Flo by Moen, and Phyn by Belkin seem to be some of the more popular items in this space. While each has their own way of doing things, the concepts are fairly similar.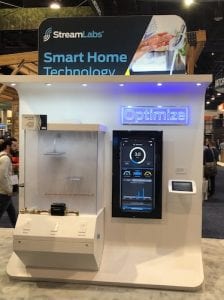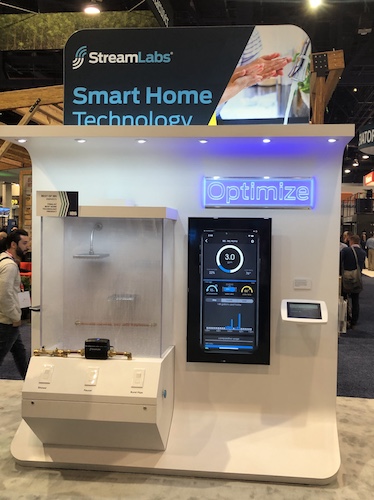 With each approach, a device is installed on the main water supply line to the home. This allows it to monitor all of the water flowing throughout your house. By watching how your home uses water it is able to tell if a faucet was left on, a toilet is running, or if there is a leak somewhere causing an increase in water usage. It does this by looking at water flow, pressure, and temperature. From there, the information is reported to the cloud and appears on your smart device, so you can monitor what is going on. In the event of a leak it can shut off the water automatically, or it can send you a notification, so you can have control over doing it via the app. The pricing varies by manufacturer, but they seem to start at $499 plus installation. An additional monthly monitoring fee is available from some of the companies if you'd like more detailed reporting information and, in some cases, it will also help cover your insurance deductible if you did have a water claim.
RWC is the parent company of the highly respected line of Shark Bite plumbing products, RWC showed its Stream Labs line (shipping in March), which feature Shark Bite fittings and an open API for control system integration. Currently, Stream Labs works with Amazon Alexa and Nest, however they are also in conversations with Control4 and are hoping to have integration in the next few months with drivers for Crestron and Savant. This will provide even more home reporting data and control capabilities as part of a completely integrated home solution for customers wanting the ultimate in simplicity and a truly integrated smart home. Check out www.streamlabswater.com , www.moen.com , or www.phyn.com .
Smart Locks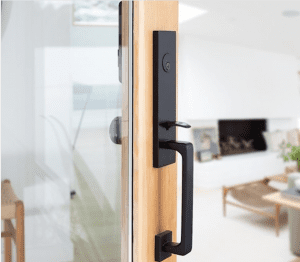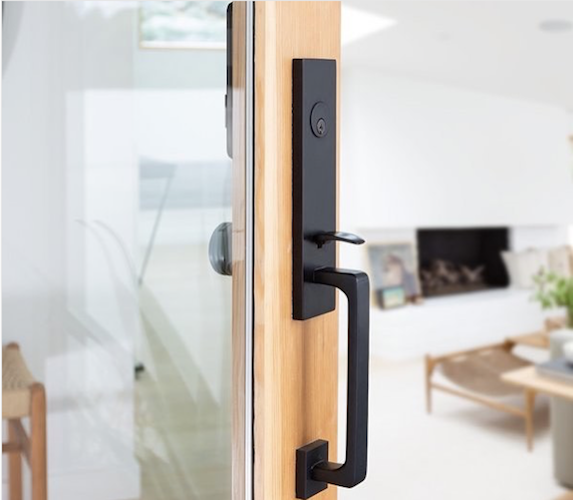 While smart locks are nothing new to the smart home, there are more locks now with Wi-Fi built in from companies such as Schlage, ASSA ABLOY's August and Yale brands, and EMTEK, which has been known mostly as a door hardware company. With the help of sister company August, EMTEK will soon be releasing the Wi-Fi "EMPowered" motorized touchscreen smart keypad lock in four different finishes. With the August connectivity, these locks will allow for remote control access, guest access, and activity monitoring. In addition, they will support voice control from Amazon Alexa, Google Assistant, and Apple's Siri. This summer they also will have a new "EMPowered" smart lock upgrade that will allow the convenience of smart technology without any hint of gadgetry. Currently it seems these Wi-Fi devices do not integrate with third-party control systems, however Schlage and Yale have historically integrated with control platforms using other wireless technologies.
Another company that stood out was AVIA, which is part of Mighton Company out of the UK. Mighton is passionate about developing security-centric products in the professional window and door hardware channel, and with their latest AVIA product offering, they claim to have the smartest smart lock in the industry and the only smart lock that works with multipoint locking door systems.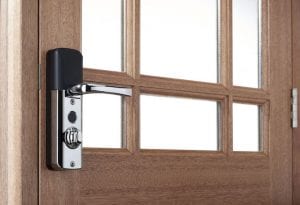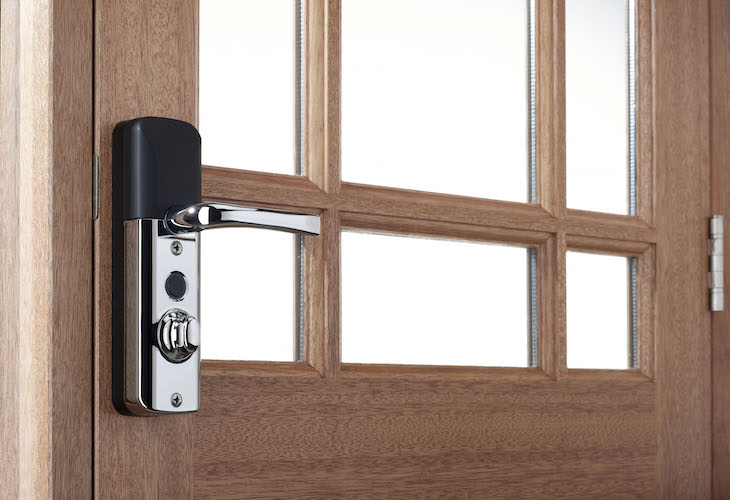 Most U.S. external doors use a common deadbolt locking system, however these can be broken into with a simple hammer and screwdriver by someone with the right knowhow. And, unlike a multi-point system that typically has three locking points, a regular deadbolt has only one. Higher end homes and commercial exterior doors often use a multi-point locking system, as it provides better security. With a multi-point locking system already fitted to your door, the installation of the AVIA smart lock is very quick and easy to install in a new or retrofit situation. The system consists of a new smart lock for the inside of the door and a security handle for the outside, which are available in four different finishes. There is also a key fob that will allow you to open the door from 30 meters away. The AVIA cylinder security lock provides the greatest security from someone trying break the lock itself to enter the home. There is an optional wireless keypad and wireless facial recognition system available, as well. The system works with Apple HomeKit and will be available on the Apple store, and through Amazon starting in May of this year. This current product does not seem to have the capability in its current form to integrate into third-party control systems without some major changes to the technology.
Smart Electrical
And the winner is… Leviton for the "Best Home Technology Product" at the 2019 IBS show. Don't take my word for it, they actually won the award. The Leviton Load Center is an internet-connected system that sends users real-time monitoring data and customizable alerts to their smart devices. The Leviton Load Center's circuit breakers install the same as the standard version and communicate with a Wi-Fi or an Ethernet-enabled data hub located at the panel. Each breaker is auto-discoverable, which makes set up easy. From there the user can go to their My Leviton App and monitor electricity usage per branch circuit or appliance, view usage trends and estimate their electricity bill, set up alerts to be notified when a circuit breaker has tripped and why, or if an appliance has been on or off for a user-defined amount of time, be assured the load center's smart circuit breakers are receiving the latest firmware updates, and remotely turn off a branch circuit breaker to shed loads.
This data will be shared in real time to the homeowner's smart device, giving them even more control over their energy consumption, alerting them of trips and easing the diagnostic process for contractors.
If you're going to make something cooler, might as well make it better, too. The Leviton circuit breakers are the only ones with patented GFCI lockout technology, which exceeds existing UL safety standards. So, now you can get the best and upgrade to the latest technology at the same time.
No word on if it will integrate with other control systems, but the product is expected to release in June, so there is still time to get some driver development done.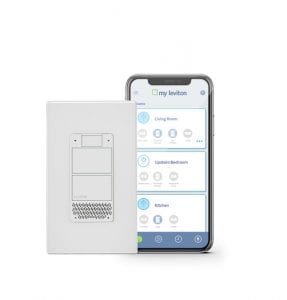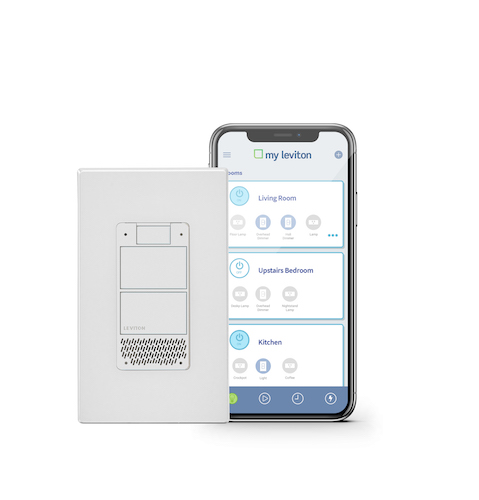 Leviton also announced this year its new Decora Voice Dimmer with Amazon Alexa Built-In. This new Wi-Fi lighting control device combines full-range dimming and three-way capability with embedded voice control via Alexa, which works with the My Leviton App and Decora Smart Wi-Fi devices to create a whole-home lighting control system. Because the this all has to fit into a single-gang box, one would expect the sound quality to suffer. That's why Leviton partnered with NXP for the processing and Harman for the sound to ensure the best user experience. There have been many attempts to try and get voice control into each room without wall or counter clutter and this seems like a great solution. Visit www.leviton.com for more information.
Legrand also showcased new Wi-Fi lighting at the show, including a line simply called Smart Lighting from its Radiant collection. These are the first lighting devices to be certified by the Open Connectivity Foundation (OCF), ensuring Smart Lighting controls work seamlessly with other OCF-certified devices, regardless of brand or operating system.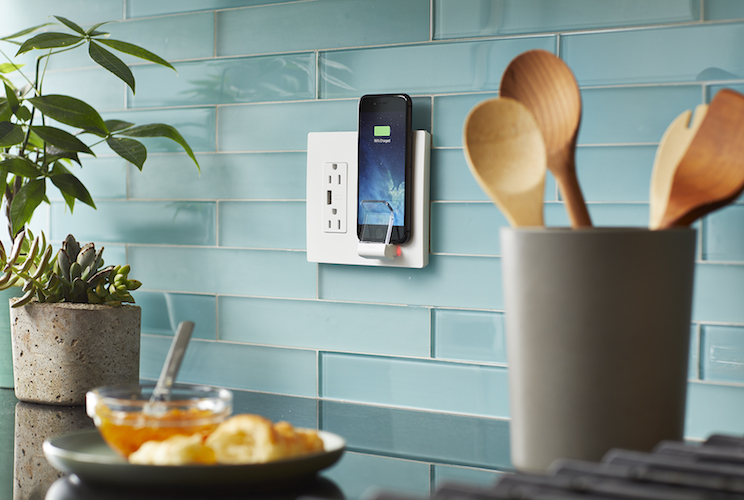 This line consists of switches and outlets that can be controlled remotely via the "Legrand Smart Light" App. These direct switch and dimmer replacements work off the existing Wi-Fi network and can also integrate with plug-in units when a switch replacement is not necessary. These will start at $65 retail and integrate with Apple HomeKit, Amazon Alexa, and Google Home.  A different offering, called RFLC, is available for customers looking to integrate Legrand wireless lighting with a third-party control system.
Legrand knows a thing or two about Wi-Fi. In addition to showing its latest Luxul products, there was lots of buzz around the Wi-Fi Assurance Program for home builders. With this initiative, the company is providing dealers and builders with certified wired and wireless network designs complete with tech-support that are guaranteed to meet their customers' reliability and performance requirements. Just like electricity and water, Wi-Fi needs to be looked at like a utility service for your home. It doesn't make sense for builders to put in smart wireless products and not have a strong network to ensure they have the signal they need to work properly. Several builders have already adopted this program and partnered with Luxul, including both Drees Homes and M-I Homes, which are able to ensure their customers are getting the best network experience throughout their new home.
Another new addition to the Radiant collection is a new in-wall wireless charger that is Qi (pronounced "chee") certified. The wireless charging pad has a front cradle to hold any of your smartphones that are Qi enabled such as the iPhone 8, iPhone X, and Samsung Galaxy to name a few. A small LED light at the base of the charger indicates charging status and lets you know when the charging is complete. Next to the wireless charging pad is a traditional dual outlet plug-in and a USB port. This is a great outlet replacement solution for the kitchen or any common area in which portable devices are dropped off for a recharge. Go to www.legrand.us to learn more about their many brands.
Taking a more traditional approach to home energy monitoring is Neurio, which showed their Home Energy Monitoring Kit that comes with their Meter, two Current Transformers, and everything you need to install it into your existing electrical panel. The kit retails for $219, which is an affordable way to monitor energy usage for your whole home, or for individual circuits. For an added charge, you can purchase two additional transformers that can install on the existing meter to allow you to monitor four circuits total. With Wi-Fi communication, it makes it easy to add to any home and allow you to monitor your energy consumption through their app. While they don't currently work with any third-party control systems, they do have an open API so hopefully we can start to see an energy dashboard get built soon to allow for a true understanding of what is going on in your home. Check out www.neur.io for more information.
As you can see, IBS had lots of new technology from less-than-typical builder-centric manufacturers. IOT devices are starting to replace traditional products, making homes smarter by default. We are still a long way from the home of the future being the home of today, but with technology changing faster than ever and the new home market still showing strength, it is only a matter of time before options become standards and homes become smarter, safer, energy efficient, and provide a more enjoyable place to live.